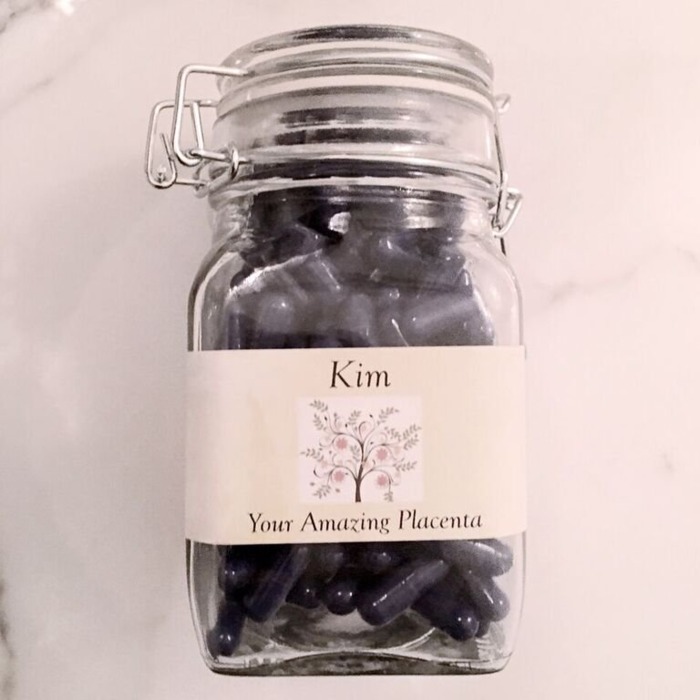 Kim Kardashian's placenta capsules.
Kim Kardashian, Kourtney Kardashian, and other non-Kardashian celebrities have been vocal proponents of eating your placenta after childbirth. According to these celebs, ingesting your placenta (a practice otherwise known as placentophagy) as a freeze-dried pill or blended into a smoothie can help stave off postpartum depression and speed up your recovery after labor. But a new study has found that there aren't actually any medical benefits to this practice, which might actually be doing more harm than good.
Published in the American Journal of Obstetrics & Gynecology, the review noted that fascination with the placenta — which does play an important role in fetal development and maternal health — has grown over the past few decades. But "there is no scientific evidence for any clinical benefit of human placentophagy," the scientists wrote.
Over half of obstetricians and gynecologists surveyed for the paper believe that they are uninformed about any risks and benefits to the practice, while 60 percent reported feeling unsure whether they should be in favor of it or not, according to the paper.
But as the Washington Post reports, the team of scientists from Weill Cornell Medicine in New York analyzed as many studies as they could, and found that most were unscientific or surveys conducted by people who were self-selected to participate. The scientists cautioned that any benefits perceived from placentophagy, including anecdotes about improved mood, may just be part of a placebo effect.
The study comes shortly after the Centers for Disease Control and Prevention issued a warning in June about placenta eating, when a new mom in Oregon transmitted a potentially deadly blood infection to her baby through breastfeeding. It is believed the infection was caused by the placenta capsules the new mom had been ingesting since giving birth, the Post notes.
"Because placentophagy is potentially harmful with no documented benefit, counseling women should be directive: physicians should discourage this practice," the study authors wrote. "Health care organizations should develop clear clinical guidelines to implement a scientific and professional approach to human placentophagy."