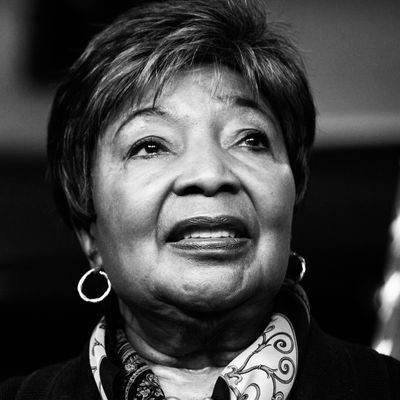 Congresswoman Eddie Bernice Johnson.
Photo: Bill Clark/CQ-Roll Call,Inc.
Following a series of bombshell reports on sexual assault allegations against Harvey Weinstein, several celebrities and politicians have weighed in, both on this specific case and on the larger issue at hand. Some comments have proven to be controversial — take Mayim Balik's op-ed that suggested women dressing modestly would ward off unwanted advances. (She has since apologized.) In the same vein, Democratic congresswoman Eddie Bernice Johnson, who represents Texas's 30th Congressional District, has recently weighed in with her take.
Johnson, who is 81, spoke to NBC DFW, and admitted that she was "old school" about the topic.
"I grew up in a time when it was as much the woman's responsibility as it was a man's — how you were dressed, what your behavior was," she said. "I'm from the old school that you can have behaviors that appear to be inviting. It can be interpreted as such. That's the responsibility, I think, of the female. I think that males have a responsibility to be professional themselves."
The reporter then asked if it was time to stop talking about women's clothing choices and instead focus on "the power some people have and some people abuse."
"I think we also need to start talking about the power that women have to control the situation," Johnson replied. "There's law enforcement, you can refuse to cooperate with that kind of behavior. I think that many times, men get away with this because they are allowed to get away with it by the women."
Here is the exhaustive list of all the women who have accused Harvey Weinstein of sexual abuse.