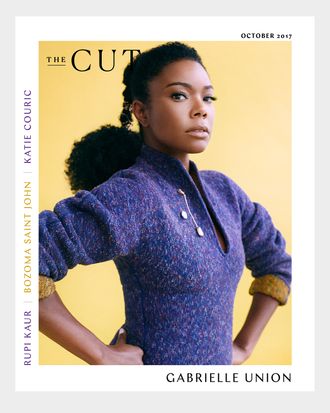 Gabrielle Union.
Photo: Tim Zaragoza. Styled by Thomas Christos Kikis.
I started to worry that I might be a robot during the dramatic finale of the Versace show in Milan a few weeks ago. All around me, grown men and women held their breath as if preparing for the Rapture. The lights went out, came back up slowly, and a curtain rose to reveal five of the original "supermodels" standing on pedestals, clad in slinky gold dresses. People began to scream and clap.
The impact of the moment wasn't lost on me — I grew up seeing these glamazons in magazines and grasped how rare it was to see them all reassembled — but I wasn't overcome by unbridled ecstasy like those around me. It was moving to see Donatella's loving tribute to her brother Gianni on the 20th anniversary of his tragic death. I saw the value of honoring these models in an industry that doesn't often give love to older women. Like everybody in the room, I took copious photos, and for days it seemed no one talked of anything else in Milan. I wanted to be as excited as my colleagues. Alexander Fury said it was the best fashion show he'd ever seen! I tried to care, but to save my life, I just couldn't.
I began to suspect two things: Either I am a heartless cyborg, or I was once again losing the war against cynicism. As battles go, this one feels familiar. I'm not religious, haven't mastered meditation in a regular way, and don't subscribe to fate-based palliatives like astrology. Enjoying things sometimes comes down to shaking off the urge to hold them at a safe distance.
Twitter wasn't helping — after a break of nearly ten months I'd recently returned. Little had changed there, and before long I was enveloped in a slanket of skepticism, snark, and Trump-related rage. Discussing this with an editor from another website, she asked me how I managed to stay sane and work on the internet. "Fighting cynicism feels like my daily practice," I joked. It was one of those moments when you say something casually, only to realize it's the truest thing you've said in ages.
For me, one of the best antidotes for cynicism is honesty. Gabrielle Union, our October cover woman, has a reputation as one of Hollywood's most candid actresses. She has a new book out this month and spoke to Allison Davis about not wanting to write a pandering, ego-boosting celebrity memoir. Union's tale is honest to a fault, with chapters on her father's affair, her rape, her tense pre-nup negotiations with Dwyane Wade, even her struggles with IVF.
Also this month: Ann Friedman continues Feminisms Now (her conversation series with notable feminist thinkers) in a long discussion with Anna Holmes. Molly Fischer attempts to understand mega-selling poetry-phenomenon Rupi Kaur. Anna Silman talks to Sarah Polley about the Atwood adaptation she's been trying to make for the last 20 years. And Allison Davis spends a day at Uber with Bozoma St. John, their woman tasked with relating to the public.
Several weeks into our newly designed site, we have many reasons to be excited. Allie Jones's new gossip column, You Know What I Heard, is up and running, with plenty of fun tips already pouring in (if you have any, email them here). Sex Negative, a column about ridiculous erotic encounters, is now one of our most popular weekly features. This month we get lifestyle advice from an all-star lineup of tastemakers, including Isabel Marant, Vera Wang, Thom Browne, and Michael Kors. Plus we spoke to Katie Couric, Esther Perel, and Melissa Clark about how they get it all done. We'll have clothes to wear while apple-picking, beauty products for when you want to look more bougie, and some inspired Halloween ideas from Gabriella Paella and Jessica Roy.
Hopefully, it's enough to make even the most disaffected droids among us crack a sentient smirk.
Love,
Stella