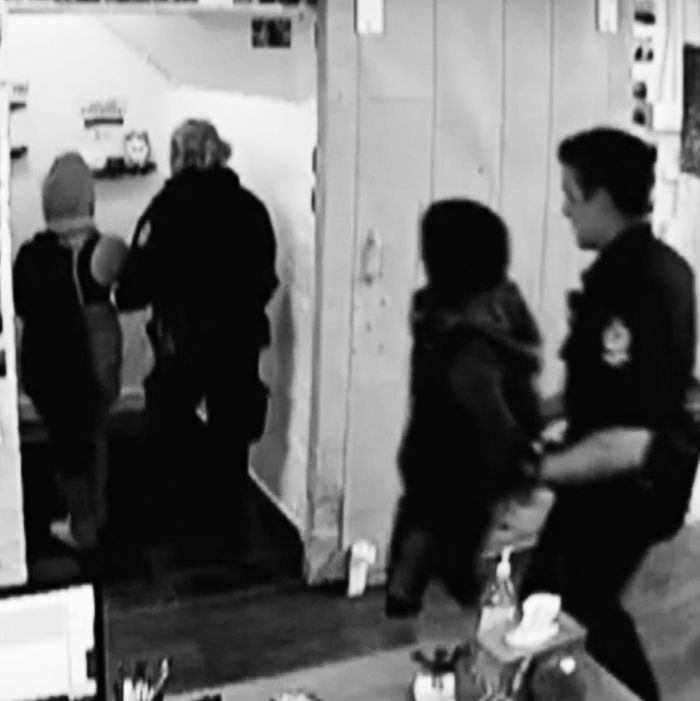 Escaped prisoners arrested at an escape room.
Photo: Courtesy of Sidequests Adventures Inc
Two women in their early 20s escaped from prison in Edmonton, Canada, on Monday night — and, in a surprisingly meta twist, were caught by police less than 24 hours later at an escape-room facility.
As CBC News reports, Kelsie Laine Marie Mast, 23, and Samantha Faye Toope, 20, hopped the fence of the Edmonton Institution for Women in Alberta late on Monday. Around 8:30 p.m. on Tuesday, they wandered into the lobby of SideQuests Adventures — a facility of theme rooms in which players must solve clues during a specific amount of time to "escape."
The women, each of whom were described by police as violent offenders, proceeded to ask "standard questions" about the facility — including, "How many puzzles? How long was the timer?" — and were even given a tour by co-owner Rebecca Liaw.
"While I was holding that conversation with them, we kind of turned only to find the hallway full of five police officers," Liaw told CBC News. "Then they were arrested immediately, and that was the end of that conversation."
Apparently someone had spotted the two women, who were dressed in jeans and hoodies, walking down the street and had notified the police, according to Vice. Toope had been serving a two-year sentence for a number of charges, including theft and robbery, while Mast was serving two years and nine months for charges that included drug trafficking and theft.
The facility's co-owner Jonathan Liaw told CBC News, "We get lots of interesting visitors but this is definitely top of the list for 'definitely interesting.'" It also tops the list for most "on brand" way to get caught by the police after escaping prison.