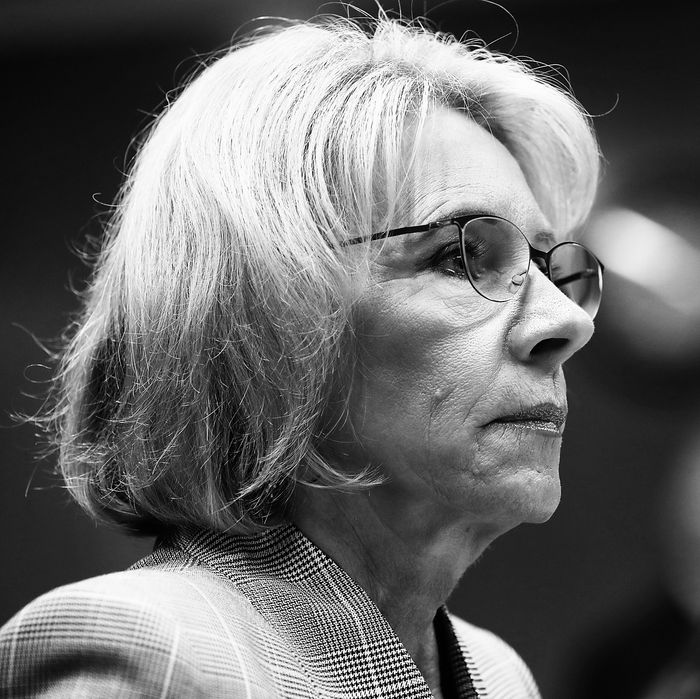 Betsy DeVos.
Photo: Win McNamee/Getty Images
On Friday, the U.S. Education Department announced it has rolled back 72 policy documents that protect the rights of students with disabilities. The Washington Post reports the move is part of the Trump administration's plan to regulate policies it believes are superfluous, and came less than one month after Title IX guidance on campus sexual assault was rescinded.
According to the Post, the Office of Special Education and Rehabilitative Services wrote in a newsletter that it had "a total of 72 guidance documents that have been rescinded to being outdated, unnecessary or ineffective — 63 from the Office of Special Education Programs (OSEP) and 9 from the Rehabilitation Services Administration (RSA)." The documents, which were actually rolled back on October 2, protected the rights of students under the Individuals with Disabilities Education Act and the Rehabilitation Act.
In February, President Donald Trump issued an executive order "to alleviate unnecessary regulatory burdens," which the Post notes prompted education secretary Betsy DeVos and other education officials to review its regulations. Also in February, DeVos rolled back guidance allowing transgender students to use bathrooms according to their gender identity, and in September, she rescinded Obama-era guidance on how schools should handle campus sexual-assault investigations.
The education department had sought comments on what policy changes should be made in regards to students with disabilities, and advocates urged DeVos to keep the existing guidance in place.
"All of these are meant to be very useful … in helping schools and parents understand and fill in with concrete examples the way the law is meant to work when it's being implemented in various situations," Leslie E. Jones, chief policy and advocacy officer for the National Center for Learning Disabilities, told the Post.