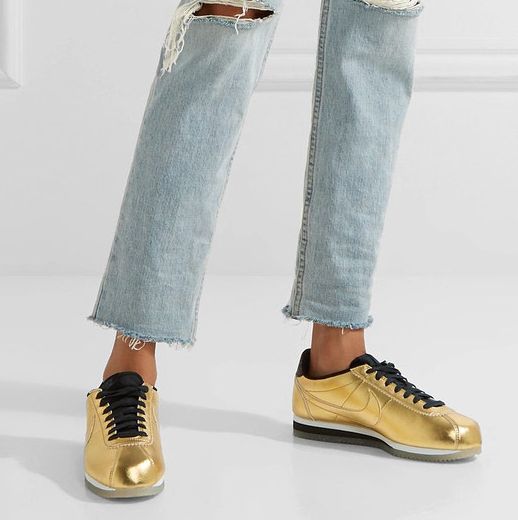 The best part about sneakers being part of the street style lexicon is that you get to feel fashion-y and comfortable all at the same time — and that goes double if your sneakers are metallic or covered in sparkles. Turn to the flashy sneaker to add a commuter-friendly touch of whimsy to any outfit. There are plenty of good options that won't set you back quite as much as customizable Gucci high-tops (though of course, those are cool too). Scroll down for eight below.
You're never too old for shoes that sparkle.
These shiny gold Nikes will steal the show every time.
Get in on the texture of the season without sacrificing comfort.
Yes, bohemian style tribe, you too can be flashy! Embrace your inner hypebeast with a floral Adidas Superstar.
For the Hopeless Romantic
These shiny hearts on shiny white shoes will soften any harsh winter outfit (or soul).
For the Ultimate Trendsetter
It doesn't get more of-the-moment than Puma x Fenty.
Photo: REVOLVE STILLS #2
The easiest way to add a bit of sparkle without breaking the bank (with bonus points for it-brand Superga)
If you're going with a non-glitter, non-metallic option, it had better be Rihanna (see above) or a collage of color.
Each product featured is independently selected, but may include paid promotion or additional compensation from our partners.