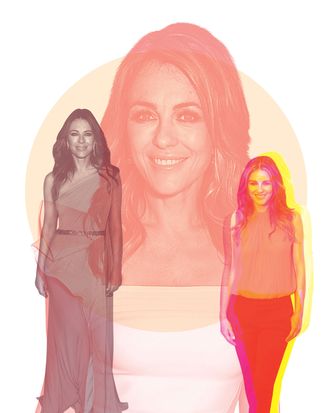 Elizabeth Hurley
Photo: Stevie Remsberg; Photos: Getty Images
Elizabeth Hurley is a model and actress, but her longest-lasting role to date is with the Estée Lauder Companies, where she's served as a spokeswoman for over two decades. This month Hurley and the American beauty behemoth are raising awareness for the Estée Lauder Companies's Breast Cancer Campaign. Through October 31, every tweet and Instagram post hashtagged #PinkRibbon25 and #ELCdonates will raise $25 to fund half an hour of cancer research for the Breast Cancer Research Foundation. As Hurley made the publicity rounds for the campaign, she told the Cut why watching the news relaxes her, how she never goes to the gym, and why she's proud to be a farmer.
How I start my day: All my mornings are varied because I'm a self-employed person and I do something different every day. Last week I wrapped season four of The Royals. For four and half months I got picked up at 5:30 a.m., so I would set my alarm for 5:25. I would leap out of bed, run downstairs, and jump in the car within five minutes of waking up. I would sleep in the back of the car on the way to the studio. When I got to the studio I'd drink a mug of hot water and go into hair and makeup. I often put apple cider vinegar in my hot water. It tastes disgusting. I can't face it every day, so I'll put it in my hot water maybe every other day. It's good for your metabolism. After about half an hour I have a cup of coffee, and after an hour I'll have breakfast. After a 12-hour day on set, I'd come home and go straight to bed after my bath. Working days are less glamorous than they appear on the outside.
What I put in my baths: Evening baths are really important to me. I have one pretty much every day of my life, just before I go to bed. I always use a Jo Malone bath oil. She's got some unbelievable smells. My favorite one is called Nectarine Blossom. It smells beautifully — very girly, and it relaxes me.
How I like to sweat: I don't do any regulated exercise, but I'm very active. On the weekends I go for long hikes with my dogs. I try and stretch every day. I do the occasional yoga or Pilates class, but mostly it's just self-exercise at home. I might do some stomach exercises or some bottom or arm exercises, but because I trained for a dancer when I was young, I sort of know all the exercises. I find it very hard for my schedule to regularly go anywhere else. It works very well for me.
What wellness means to me: It means being as healthy as you can in your lifestyle and as healthy as you can emotionally. You need to balance both. Of course it's important to eat well and exercise. It's also really important to look after yourself emotionally. People often ask me how you can look good as you age, and for me it's a couple of things. You need to look after your skin, that's important. I feel very blessed because I've worked with the Estée Lauder companies for 22 years, so I have great products. You also have to look after your health. You can't look good if you're not healthy, and diet plays a big part. You can't smoke and have too much alcohol. We all get hard knocks in life, but it's important to stay positive and stay engaged, and not be angry. Anger doesn't seem to go hand in hand with wellness.
How I stay emotionally healthy: I find watching the news and talking to my friends keeps me healthy emotionally because you realize that there are really terrible things happening sometimes and it makes you feel grateful for what you have. If you hear that someone is sick, you appreciate your health. If you hear something bad happened to someone, you're glad it didn't happen to you or your loved ones. There are many ways to appreciate what you've got.
How wellness has changed for me: When my father died back in the '90s, it made me realize how fragile life is, and how you have to seize the day. When I had my son fifteen years ago, that also brought home to me that once you're responsible for someone else, it helps you not worry about silly things. Once you've faced life and death, it really makes you focus on what actually matters. I let a lot of things go now.
My approach to nutrition: I like simple, natural, easy food. I don't really like food with a lot of chemicals or additives. When I'm at home in the country, I always try and eat food that's grown locally. That goes for meats and vegetables. Not only do I like things grown in England, I like things grown in Hertfordshire, which is the part of England that I live in. If I can grow it myself, I'm even happier. All through summer we eat fruit and vegetables from my own garden. I used to have a small organic farm, and all the meat my son ate was from the farm. Obviously that's not possible for most people, but supporting local farmers wherever you live is a good thing.
I was given my first bottle 22 years ago and I've used it twice a day every since. I think it's a miracle serum.
It's a really good thing. I use it a lot.
La Mer is absolutely wonderful, and who doesn't love it?
This interview has been edited and condensed.
If you buy something through our links, New York may earn an affiliate commission.