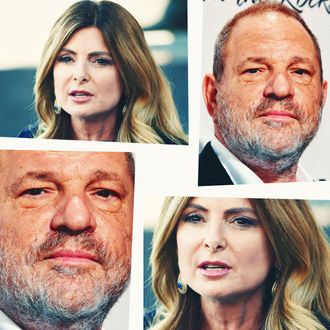 Lisa Bloom, Harvey Weinstein.
The so-called "email prankster" who already fooled a number of Trump-administration officials has apparently also tricked former Harvey Weinstein adviser Lisa Bloom, CNN reports.
Pretending to be Weinstein, the prankster wrote to Bloom in an email, "Lisa, I've had time to think, and I do understand why you felt unable to remain on my team." The message was reportedly sent after Bloom stepped down from her role as an adviser to the Hollywood producer, as he faced a growing list of sexual-harassment and assault allegations. Per CNN:
Bloom responded, "Thank you Harvey … The new round of far more serious allegations were not made known to me so I could not have realized. But I am not revealing any of that publicly because that's between you and me."
The prankster then reportedly asked Bloom to explain which allegations hit her the hardest, writing, "You can be candid." The attorney reportedly replied, "Sexual assault."
The news of the prank came as Variety reported that Bloom claims she was unaware of the severity of the allegations against Weinstein when she agreed to work with him. Bloom reportedly claims to have only been aware of allegations of verbal remarks, behaviors, and tantrums, and a source told Variety that she felt "totally lied to" by Weinstein.
Meanwhile, in true "prankster" fashion, the email hoaxer also apparently tricked Weinstein by pretending to be Anita Dunn, the former communications director for president Barack Obama.
Weinstein reportedly told the fake Dunn, "I'm sick — I need your advice. All my best, Harvey." In turn the prankster replied, "I'm sure redemption can be found Harvey, but only if you're willing to be as brave as those who have found the strength to stand up to you. You should accept your fate graciously, and not seek to deny or discredit those who your behavior has affected," to which Weinstein wrote, "I agree."