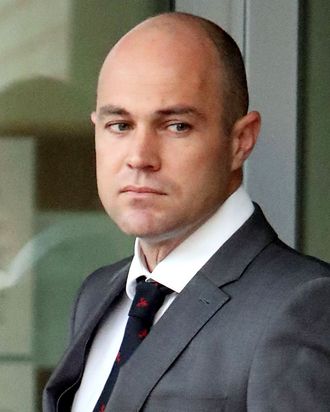 Emile Cilliers.
Photo: Steve Parsons/PA Wire/Press Association Images
If you watch enough Dateline, you eventually see a pattern emerge in true crime stories: the husband probably did it.
Such is the theory at hand in the case of Emile Cilliers, a British army sergeant who went to trial this week for two counts of attempted murder against his wife, Victoria.
On April 5, 2015, Emile reportedly suggested that he and Victoria go skydiving, an activity she had done thousands of times before. Victoria's parachute malfunctioned and she plunged to the ground, breaking her pelvis, ribs, and vertebrae.
Per The Guardian, "one expert called the main parachute the most tangled and knotted he had ever seen after a malfunction." Two crucial components were also missing, leading the prosecution to believe that Emile had tampered with it.
The prosecution is also arguing that a week before, Emile had tried to murder Victoria by messing with the gas pipe in their kitchen in the hopes that it would leak and cause a gas explosion:
Victoria Cilliers smelled gas and messaged her husband: "Are you trying to kill me?" When he asked her what she meant she said she had only been joking and had been reading magazine stories of husbands killing wives.
When that didn't work, they allege, he went with the parachute plan.
Emile's motive? He was in debt and could stand to make money from Victoria's life-insurance payout. Also damning was the fact that he was having two affairs at the time: one with a woman he met on Tinder with whom he wanted to "begin a new life," and one with his ex-wife, Carly.
Emile is denying the accusations.