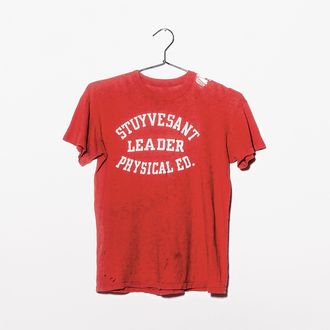 A firefighter's uniform, boots from a downed plane, and more: eight sartorial stories from Emily Spivack's new book, Worn in New York.
A T-shirt From a Music Video
Adam Horovitz
I borrowed this T-shirt from Kate Schellenbach, who I was in the Beastie Boys with, when I was 15. I liked it because it was comfortable. And because it was Kate's. When our first record was about to come out, we had a photo shoot where I was wearing this T-shirt and Adam Yauch was drinking a carton of milk — I have no idea why. The record blew up, so the photos were everywhere. I wore it in the "Fight for Your Right" music video, too. And I brought it when we went on tour and opened for Madonna in 1985. I didn't know then that I was supposed to care about what I wore. I had no style. My best friend was always calling me a "walking pile of dirty laundry." My look evolved since the days of that T-shirt. Not drastically, but I embraced that I was going to have a style. I'd see Jam Master Jay and want what he was wearing. Lee Jeans because Jordaches were dead. No more British Walkers. I had to get Adidas. It was all in the details.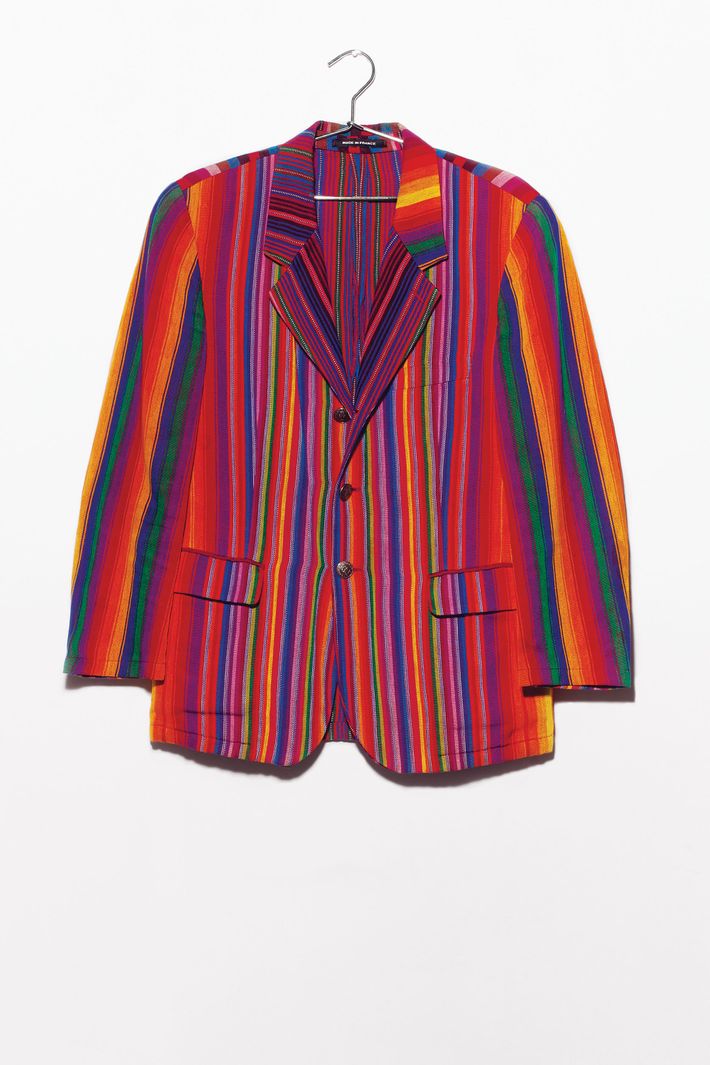 An Actor's First Big Purchase
Andre Royo, The Wire
In the late 1980s, I went away to an automotive business college in Florida. When I came back in the early 1990s, I was hanging out in Harlem and the photographer Martine Barrat came over to me. She asked, "What do you do?" I said, "I'm trying to be an actor." She got me a job at agnès b on Prince Street. The first time I walked in, I had on a bubble goose vest and some Lees. The other employees gave me the side-eye, like, "They don't hire guys like you." Then I saw this jacket. I thought, "This jacket is cool, but I can't pull it off." So I walked away from it. Came back. Put it on. And when I was looking at myself in the mirror, somebody was like, "Yo, that looks like you. You can pull that off," and I was like, "Nah, you buggin'." The third day I walked into the store and saw the jacket again. I started thinking about how people encouraged me to be an actor. How they meant it with love. How I had support from my mom and dad, from my boys. How they believed in me more than I believed in myself. I saw all of that in this jacket. I bought it and put it on. And people started saying, "Yo, that's a dope jacket, man! Where did you get that jacket?" and I was like, "I know! I know it's a dope jacket, motherfucker!"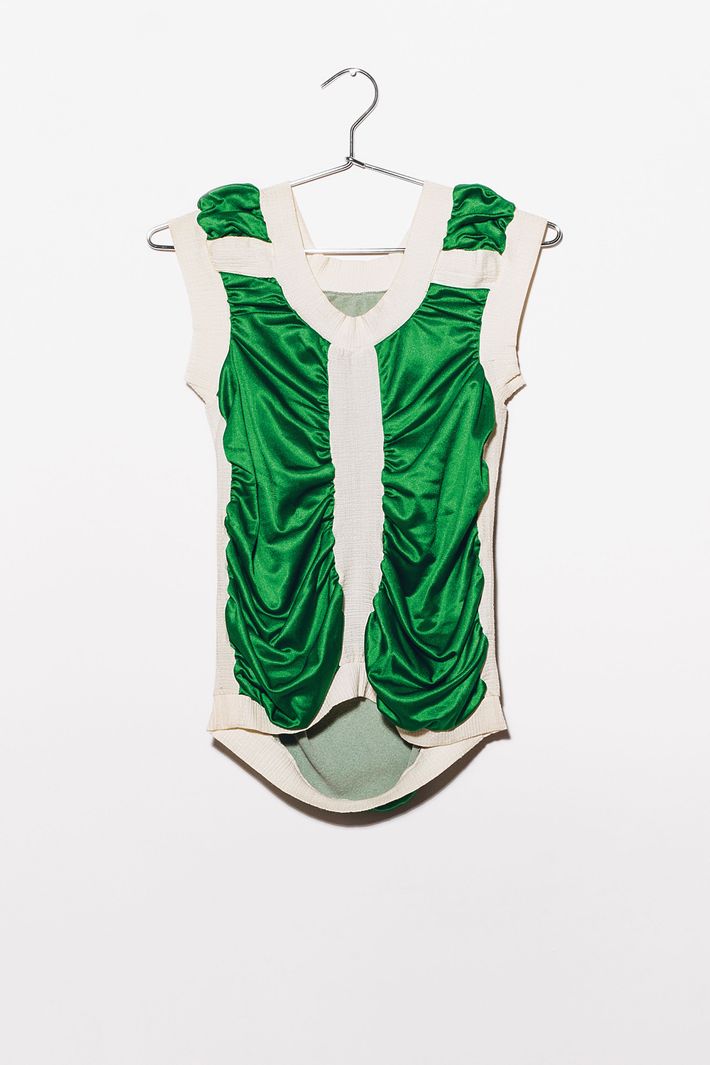 A Tank Worn Clubbing With Warhol
Benjamin Liu
During the day, as Andy Warhol's studio assistant, I'd head to work wearing jeans, since everyone was wearing jeans at the Factory then, and a black polo shirt. We all wanted to match with Andy. But for my nighttime personality I loved wearing a pair of Vivienne Westwood shorts with this Vivienne Westwood tank top. It was one of my favorite outfits to wear to Area, the nightclub I frequented in 1983. When I'd arrive at Area, I'd go straight to the bathroom — the place's real VIP lounge. In those days, Tony Shafrazi, Keith Haring, maybe Larry Gagosian might be around, and these kids who we called "nameless kids." Things were invented in that bathroom. Like snapping your fingers and saying, "You go, girl!" One night, Andy decided to set up a Polaroid studio in the women's bathroom to shoot the most interesting, creative people in New York — not celebrities. One of the people I pulled for Andy was Stephen Gan, the co-creator of Visionaire. He was wearing a Gaultier man-skirt, and his look was brilliant. "Come with me," I said. I pointed to Andy. "You're going to be photographed by him."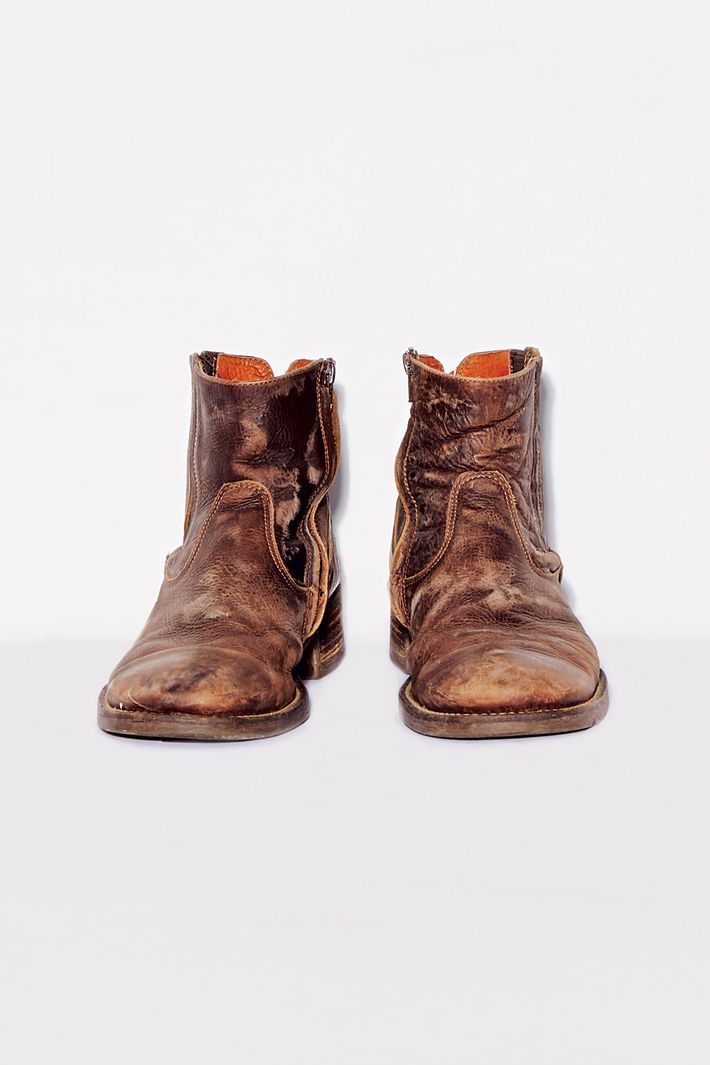 Boots From a Downed Plane
Ben Bostic, passenger on Flight 1549
I had been prepared to die, bracing for impact, knowing the plane was going to crash. I got real calm. The scariest part had been watching the left engine burn and waiting for the outcome. After we landed on the Hudson, I remember flipping my hands over, wiggling my fingers, and looking down at my feet. I was shocked that I was still in one piece. When the water started coming in, I noticed it almost immediately. We were tilted backward, which meant that water was filling up the back of the plane. My boots were already soaked. It was up to my ankles. I was in the 20th of
26 rows, and the flight attendant in the back of the plane was saying frantically, "Move forward, move forward!" because the farther back in the plane the deeper the water was, and it was cold. In the six rows behind me, people were in waist-deep water, up to their neck, even, before they could move forward. You couldn't stay in there long. You'd get hypothermia. We had to get out fast. The ferries got to us first — the people onboard started throwing us life jackets. Once I got on the boat, I realized the people helping us were passengers, bystanders on their way to work. All of us needed rescuing, from Captain Sully down. And the people of New York were literally giving us the clothes off their backs.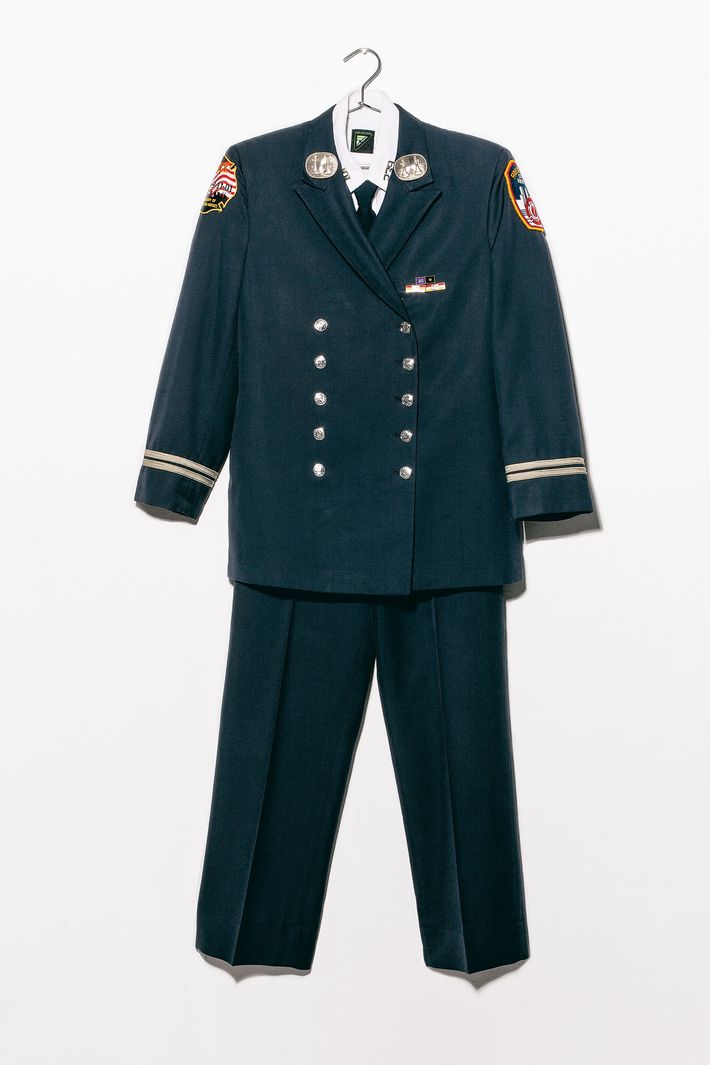 The First Female Frefighter's Uniform
Brenda Berkman
Throughout my childhood, I was a tomboy. My mother signed me up for Little League, but when the coach found out I was a girl, he turned me down. So the idea of wearing a uniform got stuck in my mind as something honorable. In 1977, in my last year of law school, the firefighter test opened to women for the first time. In 1978, I passed the written portion.
I showed up at an armory in Bed-Stuy to take the physical test, which I'd trained for by carrying my husband up and down our stairs. But I failed that exam. Not a single one of the 90 women who had passed the written exam passed the physical one. So I sued for discrimination. Four years later, I won the lawsuit and was hired as a firefighter at Engine 17. I have been awarded three citations during my career. One is for a tough fire in a tenement. Another is for a construction collapse in Chelsea. And another is for being at the World Trade Center on 9/11. Most people still don't realize that women are firefighters. A lot of people don't even know the correct terminology — they want to call us "lady firemen" or "fire belles." But believe me, when someone shows up in your burning apartment to drag you out into the hallway, you're not gonna be in any condition to say, "I'm sorry, I only want to be rescued by a male firefighter."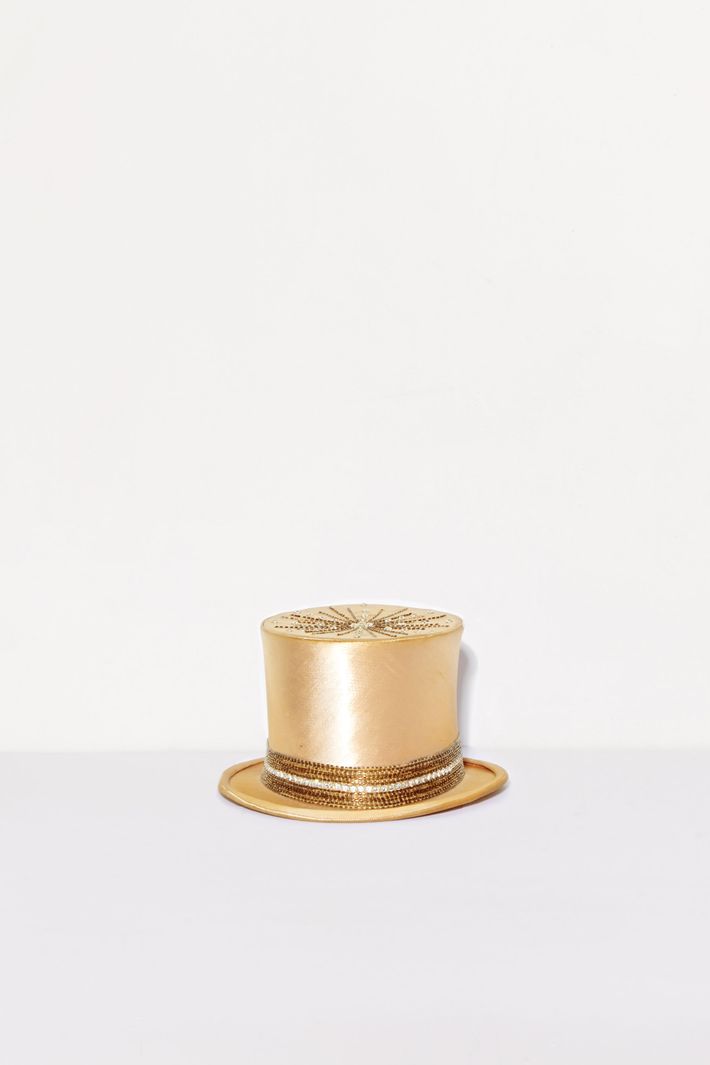 A Tophat Worn on Broadway
Donna Drake, Broadway actress
I walked out of an audition at the Joseph Papp Theater and saw this sea of women dancers stretching, smoking cigarettes. I asked what they were there for and she told me that Michael Bennett was having a private audition. So when they walked in, I walked in with them. And I got a callback. Then another. On the final day of auditions, Michael came onstage and welcomed us to the workshop of what I then learned was A Chorus Line. These tophats were made for the original cast to wear during "One."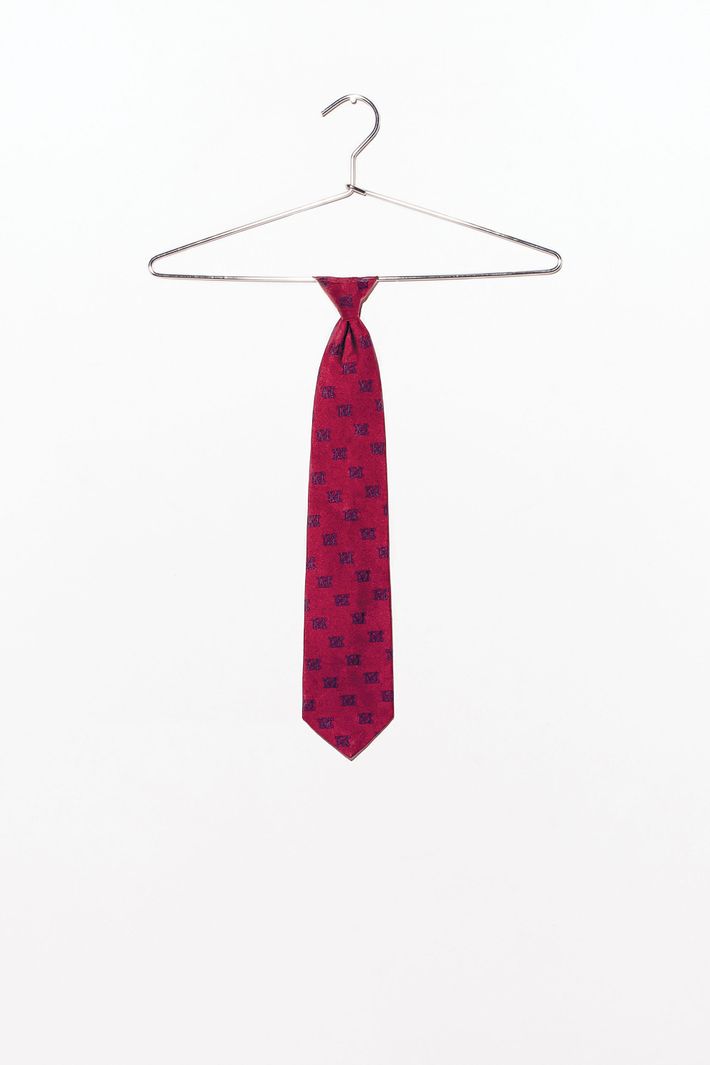 A Met Guard's Tie
Ariel Churnin
As a female guard at the Met, you were given either a clip-on tie like this one or a little foofy bow tie. Plus pants, skirts, jackets, a tie, and white shirts. The uniform makes people look past you. But if you're ever at the Met just before closing, you'll see hundreds of guards gathering in the main hall. Once the visitors are gone, the guards will yell and run to the locker room underneath the Egyptian section, pulling off their clip-on ties as they go.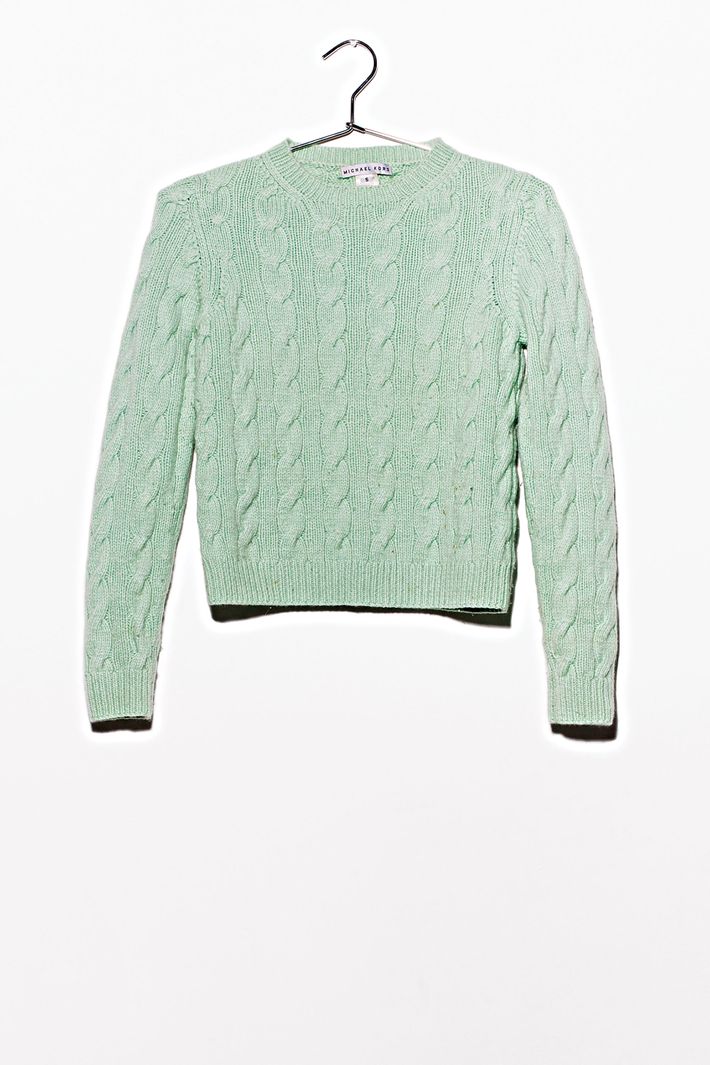 A Shoplifted Sweater
Alicia Van Couvering, film producer
I had a specific method for shoplifting clothes, and I used that method to shoplift this sweater from Century 21, which was right near my high school. I would embody the character of a "very distracted teenager." I would put my winter coat over my arm, then my sweater over the coat as if it was something I planned to buy. I'd channel this really tired, dehydrated, stressed-out girl persona, then wander out of the store with a dazed look on my face.
*A version of this article appears in the October 2, 2017, issue of New York Magazine.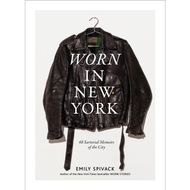 Excerpt adapted from Worn in New York: 68 Sartorial Memoirs of the City, by Emily Spivack. Published by Abrams Image on October 10, 2017.