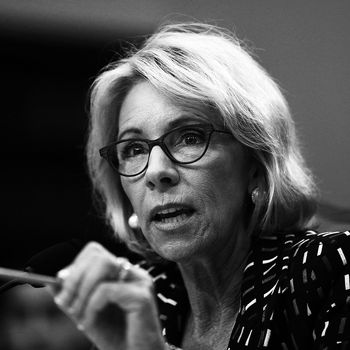 Photo: Alex Wong/Getty Images
Back in September the Trump Administration rescinded Title IX guidance on campus sexual assault and Education Secretary Betsy DeVos replaced them with a temporary set of guidelines. Now, Boston women's rights group, Equal Means Equal, is suing the Education Department alleging that by allowing schools to use a higher standard of evidence for abuses based on sex but not other civil rights violations based on race or nationality, DeVos's temporary guide violates Title IX.
Three unnamed women from Massachusetts who each independently accused their universities of mishandling reported sexual assault join Los Angeles based Equal Means Equal in the lawsuit. They all fear the new rules will undermine their cases that predate DeVos's announcement. Two of the students have cases against Stonehill College in Easton Massachusetts through the Education Department, while one is suing Boston University in civil court. The two students with federal cases are still trying to confirm whether the new temporary rules apply to their open college investigations.
"Ironically, we have the sScretary of Education issuing discriminatory rules that apply only to violence against women and subject only victims of sex-based harm to second-class treatment on college campuses," Wendy Murphy, the lawyer who filed the lawsuit, said outside the Boston federal courthouse.
This may be the first lawsuit of its kind, but unfortunately Equal Means Equal does not think it'll be the last.