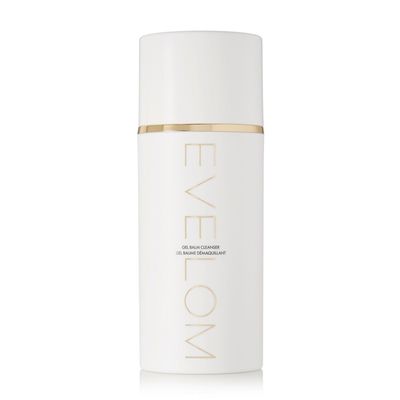 In the words of Bella Hadid, I'm quiet for most cleansers. But the Eve Lom cleanser? Homeboy can get it.
I've felt that way since I plunked down my own money six years ago at a Space NK to buy the original, which was deemed by British Vogue to be "the best cleanser in the world." Despite not being the fastest cleanser (it comes with a pamphlet about five-step lymphatic drainage massage) or the most convenient (it requires the use of a 17th-century-like muslin cloth), it gave me soft, clear, dewy, fresh-from-a-facial skin every time I used it — which I did, every day, for an entire year.
But eventually, because it took so long and I prioritze sleep, it became more of an occasional indulgence than an everyday necessity. Enter the brand's new Gel Balm Cleanser. It's a lighter version of the original that comes off easily with water, resulting in the same soft, and not tight-feeling, clear skin. It even has the same lightly clove-y, hops-like scent, but there's no muslin cloth and this time the lymphatic drainage is optional. I like to use mine in the shower, wetting my face first. With the addition of water and skin contact, the balm cleanser becomes a luxurious, silky-but-not-slippery-feeling oil, making it easy to gently rub and rinse away makeup and dirt.
The cleanser is even improved. Some critics of the original bemoaned the formula's inclusion of mineral oil, derided as being a low-quality "filler"that has little benefit to the skin. But the new Gel Balm Cleanser doesn't contain mineral oil — not because the brand thought it was detrimental, as they explained to me, but so they could create a lighter texture that would wash away more easily with water.
At $60, it's only a little less expensive than the pricey original — but it does have more than 100 five-stars reviews each on Nordstrom, Sephora, Space NK, and Bloomingdale's.