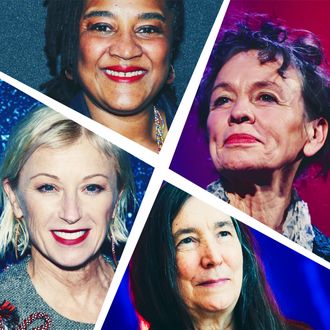 Female artists co-sign letter against sexual harassment.
Photo: Getty Images
Less than a week after Artforum publisher Knight Landesman was accused of sexual harassment by several women, more than 500 women in the art world signed a letter condemning harassment and sexism in the industry.
The letter, according to the New York Times, was co-signed by high-profile artists including Cindy Sherman, Laurie Anderson, Lynn Nottage, and Dominique Gonzalez-Foerster. It was also signed by a number of curators, writers, and directors — as well as prominent artist Jenny Holzer, who gave the group permission to use text from her work Abuse of Power Comes As No Surprise in the letter.
As the Times reports, the open letter calls on art institutions to fight inequality and abuse, and remove offenders from positions of power. "Your actions will no longer be a secret, whispered amongst us for fear of ostracization, professional shunning, and recrimination," it reads. "Where we see the abuse of power, we resolve to speak out."
Landesman resigned Wednesday after a lawsuit was filed against him by nine women who either worked at Artforum or met him through the art world. According to the lawsuit, the art icon allegedly groped the women, attempted to kiss them, sent them vulgar messages, and occasionally retaliated if they turned him down. The lawsuit also named three other publishers of being aware of his behavior and doing nothing to stop it.
Among other things, the open letter announces an online campaign, Not Surprised. "There's a real recognition that needs to take place that this is an actual problem and affects a huge percentage of people working in the contemporary art industry," letter co-signer and MoMA PS1 curator Ruba Katrib told the Times.