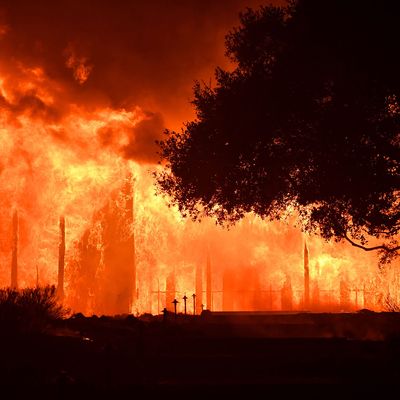 Photo: JOSH EDELSON/AFP/Getty Images
As the northern part of California is being ravaged by wildfires, crews of female inmates are the first line of defense in some areas, carrying 40-pound backpacks and making little more than $2 a day. According to NBC News, California's fire-fighting force is made up in part of about 3,800 inmates, including 200 women.
The inmate firefighters live in one of 43 conservation camps, three of which are all-female, instead of being housed in a prison. They're paid $2 a day, with an extra $1 per hour spent on the fire line.
Sandra Welsh, an inmate who works in the Malibu camp which has fought 177 fires this year, told NBC, "We are the ones that do the line. We are the ones that carry the hose out. We're the line of defense."
Many of the women interviewed by NBC were proud of their work, but Gayle McLaughlin, a candidate for lieutenant governor of California, called it "slave labor," which is a common critique of programs that pay inmates a pittance for their work, in exchange for not being in prison.
"No matter how you may want to dress it up, if you have people working for nothing or almost nothing, you've got slave labor, and it is not acceptable," she said.