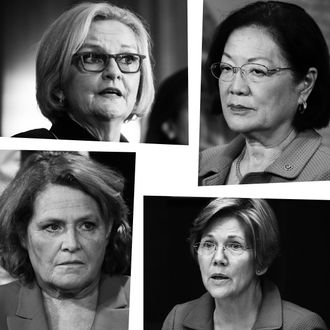 Female senators share their #MeToo stories.
Photo: Getty Images
In the wake of sexual-abuse allegations against Hollywood producer Harvey Weinstein, many women started sharing their own stories of harassment and assault on social media using the #MeToo hashtag. Over the weekend, four female senators joined the movement, opening up about harassment they've endured during an episode of Meet The Press.
The program reached out to every female member of the Senate — that's 21 — but only four (all of whom are Democrats) agreed to share their stories with Meet the Press: Senators Elizabeth Warren, Claire McCaskill, Heidi Heitkamp, and Mazie Hirono.
Warren revealed that when she was a new law professor — "so excited" to have her first job — a senior faculty member made dirty jokes and comments about her appearance, before eventually lunging for her and "chasing me around the desk, trying to get his hands around me" when they were alone in his office.
McCaskill's harassment occurred during her 20s when she was a state legislator in Missouri. She told Meet the Press that she was nervous about getting her first bill out of committee and sought advice from the Speaker of the Missouri House of Representatives, who asked her, "Well, did you bring your knee pads?"
Hirono told the program that she's been propositioned by colleagues, teachers, "you name it," while Heitkamp revealed that she was told when working on a domestic violence bill that "men will always beat their wives and you can't stop them."
Each of the women also opened up about the shame and humiliation they felt after experiencing their #MeToo moments, and how they hope things will change moving forward. "What it means now that so many people have spoken out, is it's a way to say we're here for each other, and it's also a way to say, no it's not about what you did," Warren said. "He's the one who stepped out of line, and it's on him."