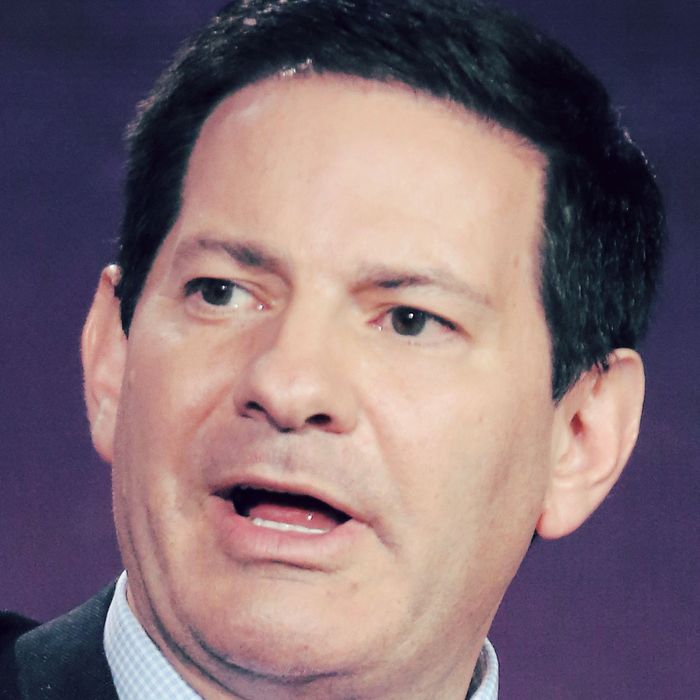 Mark Halperin.
Photo: 2016 Getty Images
Five women have accused journalist Mark Halperin of sexual harassment while he was political director of ABC News, according to CNN. The claims have been confirmed by multiple sources who did not experience the harassment but knew about it. Halperin is a senior political analyst for MSNBC, frequent guest on Morning Joe, and author.
Three of the five women say that Halperin "[pressed] an erection against their bodies while he was clothed." Other allegations range from propositioning women for sex to groping their breasts and forcibly kissing them. On one occasion, a woman went into the bathroom and found him standing there when she opened the door, "propositioning [me] to go into the other bathroom to do something." Another woman was propositioned during her first meeting with Halperin. Per CNN:
"The first meeting I ever had with him was in his office and he just came up from behind — I was sitting in a chair from across his desk — and he came up behind me and [while he was clothed] he pressed his body on mine, his penis, on my shoulder," this woman told CNN. "I was obviously completely shocked. I can't even remember how I got out of there — [but] I got out of there and was freaked out by that whole experience. Given I was so young and new I wasn't sure if that was the sort of thing that was expected of you if you wanted something from a male figure in news."
Halperin denied these claims, which allegedly happened from the 1990s to the mid-2000s. The women did not report to Halperin directly, and none of them said he promised anything in exchange for sex. Halperin responded to the claims in a statement to CNN.
"During this period, I did pursue relationships with women that I worked with, including some junior to me. I now understand from these accounts that my behavior was inappropriate and caused others pain. For that, I am deeply sorry and I apologize. Under the circumstances, I'm going to take a step back from my day-to-day work while I properly deal with this situation."
Update, October 26, 2017, at 9:15 a.m.: Halperin will be leaving his role as a contributor at MSNBC, "until the questions around his past conduct are fully understood," the company told Fox News in a statement.
Update, October 26, 2017, at 10:46 a.m.: A sixth woman, Emily Miller, has tweeted that she was another woman that Halperin harassed. She said she didn't report because she was embarrassed and thought she was the only one.