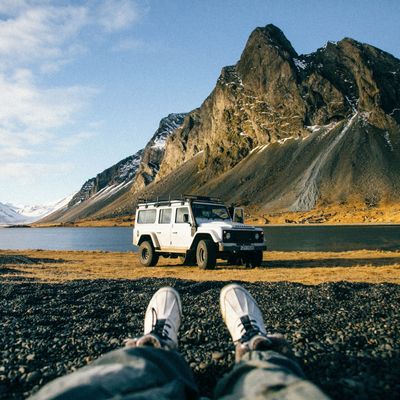 Weekend With is an ongoing Instagram series that features people we like, photographing places we'd like to be. Follow @thecut on Instagram to join in, and tag your photos with #weekendwith when you travel somewhere new.
Philadelphia-based photographer Jana Kirn spends most of her time shooting stories for Free People, but her vacation to Iceland this year was all play and no work.
"My favorite part about the trip was the lack of schedule to follow," she told the Cut. Kirn booked a hotel room for her first night, and that's it. From there, she rented a car, hit the road, and found places to stay along the way. "There was so much freedom to stop wherever you wanted, for however long felt right."
In Iceland the weather seems to change every five minutes, she said, which inspired a striking portfolio that juxtaposes light and shadows, some sparkling with mist and others drenched in sun, with photos of mountainous landscapes and chilly frozen roads.
"Iceland is the strangest place I've ever been, " she added. "It's impossible to not be amazed at the beauty of the island. One trip isn't enough."