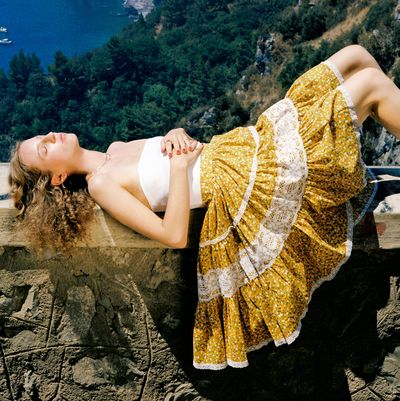 Weekend With is an ongoing Instagram series that features people we like, photographing places we'd like to be. Follow @thecut on Instagram to join in, and tag your photos with #weekendwith when you travel somewhere new.
This summer, photographer Carlotta Kohl traveled to the Amalfi coast with her mother and her best friend, the artist Petra Collins. The three drank apéritifs, hiked the mountainous Mediterranean region, and ate octopus every day.
Kohl explains that she and her mom started in Rome, where they recreated the Audrey Hepburn moment from Roman Holiday on the Spanish Steps with gelato in hand. After a few days there, they hit the road in a rental car. "The drives are incredibly scenic and there are so many little towns that are great for day trips," she says. "If you rent a car, make sure you specify that you'll need an automatic. The roads are super windy and narrow."
On one such drive, they picked up Collins and headed to Conca del Sogna, a beach club built on the cliffside of what used to be a stone quarry. The club has been run by the same family since the 1950's, and Kohl says it's famous for its food: "Whether you sleep at La Conca or not, make sure you come for lunch to try their famous zucchini pasta and the salt-baked catch of the day and to take a dip in the stunning waters." Scroll down for the jealousy-inducing photo evidence.