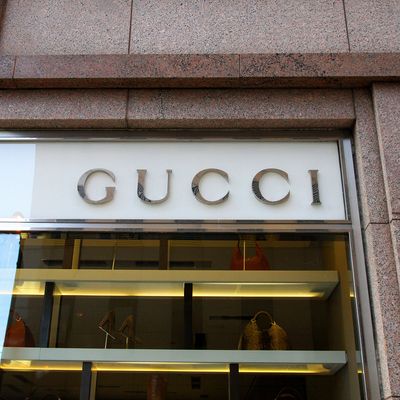 Photo: Raymond Boyd/Getty Images
A former Gucci sales-and-marketing associate named Chanel Falasco is suing the brand in excess of $10 million on claims of a hostile work environment caused by sexual harassment, quid pro quo sexual harassment, and negligent supervision on the part of Gucci.
According to WWD, Falasco told an Illinois federal court on Friday that during her more than two years working at the Gucci flagship in downtown Chicago, the store's assistant manager (identified as "Byrne") frequently made "flirtatious overtures and sexually suggestive comments," including calling her "Booty" in front of other employees. He also allegedly once exposed himself in the storeroom while Falasco was looking for merchandise that a customer planned to pick up. Byrne was the only manager on duty at the time with a key.
Falasco also claims that she told higher-ups not once but twice about Byrne's actions, only to be told to "brush him off," "ignore it," and to "avoid working with him." There was also allegedly no human-resources staff at the Chicago store, and when Falasco asked for contact information for corporate HR, Gucci's operations coordinator "balked." Finally, following Falasco's annual review with Byrne and the store manager, Amy Hannaford, Byrne allegedly told Falasco that her review would have been better, had she gone along with his sexual advancements.
According to WWD, Byrne was soon given a position of store manager at the Gucci store in Coral Gables, Florida. (A job listing for that same position was posted by Gucci in late August.) Falasco, on the other hand, resigned in February 2016, but filed complaints with the Equal Employment Opportunity Commission for gender discrimination.
The EEOC determined this past February that there is "cause to believe" Falasco was discriminated against due to her sex, however, they were unsuccessful in resolving the claim out of court, and so Falasco received a right to sue Gucci in July.
When the Cut reached out to Gucci for comment on Wednesday, the brand replied: "As a company policy, we do not comment publicly on personnel-related matters."