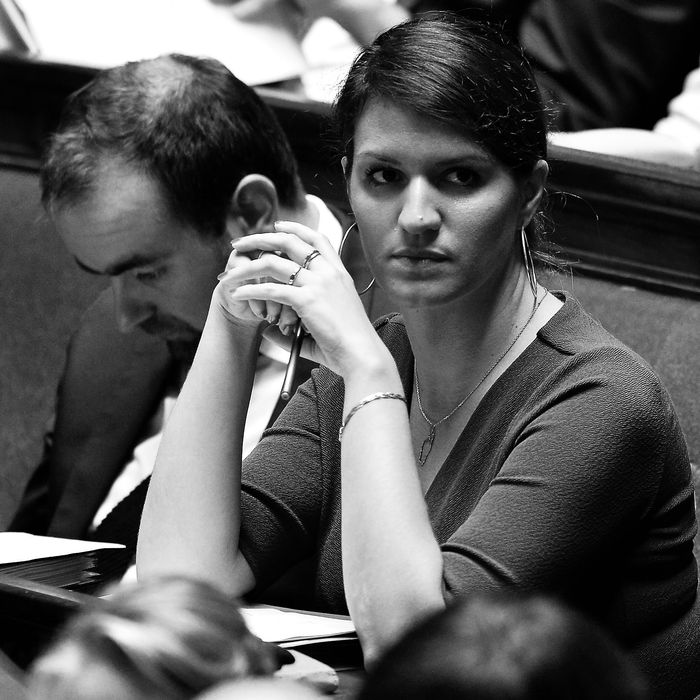 Marlène Schiappa.
Photo: Aurelien Meunier/Getty Images
France is reportedly considering imposing fines on men for aggressive catcalling or lewd behavior towards women, the New York Times reports. The news comes after revelations about Harvey Weinstein's sexual harassment and assault allegations sparked thousands of women to share their own stories of harassment on social media.
Prompted by actress Alyssa Milano, many women in the U.S. opened up about their experiences with harassment and assault using the #MeToo hashtag. According to the Times, women in France also shared their stories — but using the hashtag #BalanceTonPorc, or "Expose Your Pig," after the journalist Sandra Muller tweeted an inappropriate comment she allegedly received from a powerful French executive.
Marlène Schiappa, France's junior minister for gender equality, told RTL Radio that she has been moved by the responses to #BalanceTonPorc. She said on Monday that the country is considering how exactly to define street harassment and what sort of fines to impose upon catcallers. France is also considering proposals to extend the statute of limitations in sexual assault cases involving minors and to potentially create a new age under which minors cannot legally consent to sexual relationships.
Per the Times:
"We all have stories of harassment and assault," she said, adding: "One of my best friends said something with this hashtag that she had never told our group of friends. This hashtag, with the barrier created by a screen, can help people speak out, and I think that it is truly beneficial."
The Times notes that the allegations against Weinstein have stirred up memories in France of the case of former IMF head Dominique Strauss-Kahn, who was arrested in New York in 2011 for allegedly assaulting a hotel housekeeper. Although the charges against Strauss-Kahn were ultimately dropped, the case helped encourage other women to come forward with their own allegations against men in power in the country. In 2016, a dozen women accused Green Party politician Denis Baupin of sexual harassment.
"DSK was the first blow, and Baupin the second one," former French Green Party leader Sandrine Rousseau told the Times. "The Weinstein revelations have had a strong echo in France, because what used to be seen as naughtiness is now being considered as sexual harassment."