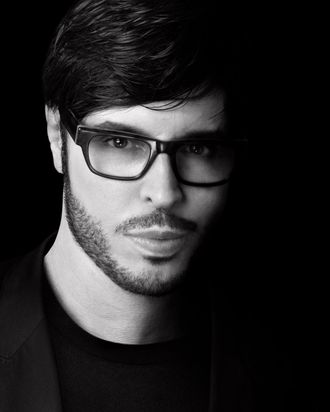 Makeup legend François Nars doesn't know why he's not on Instagram. "I don't have it. I don't know why. I always feel a bit nostalgic of the past when there was more mystery. But at this moment, I'm not into it." Even without a personal Instagram, the namesake brand he founded in 1994 isn't hurting — it remains a million-dollar business with close to five million Instagram followers. Part of its good business comes from the brand's great color sense and unique collaborations, pairing up in the past with Charlotte Gainsbourg and Andy Warhol. The Cut caught up with Nars to talk about the brand's newest holiday collaboration with modernist photographer Man Ray, and to learn about what the makeup visionary thinks feels "old" about beauty, how he defends vanity against critics, and his concern about some of the makeup he sees on social media.
Many of the collaborators you've picked in the past like Guy Bourdin have mentioned they were influenced by Man Ray's work. And now you picked the artist himself for this collaboration. Why are you so drawn to him and people inspired by him?
Man Ray's work is so accurate and incredibly modern. I hate the word modern, but it's true. In my casting and my selection for people who I love and who have influenced me, I look at people who could create and be part of what is going on today.
There are a few things that make Man Ray's work accurate. You could still put his work in a magazine today and it would feel right. That's not the case with everyone's photos — sometimes with the attitude of the model, the way they're dressed, its energy can feel old. But in Man Ray's case, that's never the case. The still-life still feels new (no one does still-life as good as Man Ray in the '50s.) There's a twist to the attitude or movement to the photo.
He also photographed such a mix of people — ethnic people and not just Parisians. He really opened the world through fashion and photography. One of his famous photos, and included in the collection is Mode au Congo, a portrait of his muse Adrienne Fidelin, and became the first black model to appears in Harper's Bazaar. He photographed diversity, black and Asian people, and broke the rules.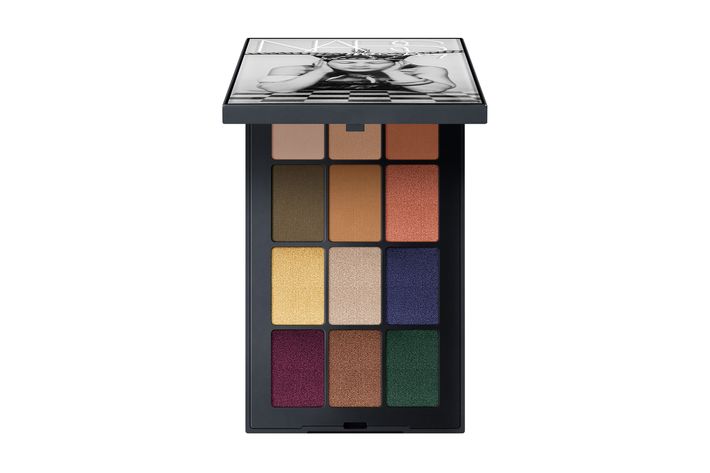 Man Ray's work is primarily black-and-white. NARS is known for its use of color. What was the color creation process like if the original inspiration doesn't have any color?
You use your imagination. But it's quite interesting. I'm also a very black-and-white person, but love color. I tried to imagine what Man Ray would have liked, what he would have been attracted to. What would his subjects like Kiki de Montparnasse be drawn to? That's what makes it fun for me. When we create a collection, it's not about selling a specific color. It's about giving a message to the public. When they come to the store, they're attracted to an image.
He also knew the power that makeup could bring to an image — how it could add to the details, the drama and feel, and poetry, there's a lot of poetry in his photographs. When he started taking photographs, makeup was a very important statement. Women wouldn't go out without it. Look at the photo with the lashes, it's daring and incredibly done and that was taken in 1932. Madonna copied this for her photograph with Herb Ritts. In looking at his photos, you really understood how makeup can really make a photograph in some way. It's the same thing for me.
You said Man Ray's work feels new. What doesn't feel new to you, in beauty?
What feels old to me is to put women back in a "prison" of makeup — there is that whole movement on social media. Some makeup artists are sending messages that people have to look a certain way or that they have to do things to their faces that aren't modern and feel more like it should remain in a museum. It's certainly interesting and fun to look at. With certain looks seen on the internet, you really have to spend five hours and you have to have a very good makeup artist. I don't know what modern working woman today can afford to paint themselves for hours.
My philosophy is simple, I want women to feel good in their own body. I don't want them to feel like it takes five hours to achieve something and look good. My message for women is to make them feel like makeup is easy and not scary, and not something you feel like only a good makeup artist can achieve. I like things to move on. I always give that example of Coco Chanel — she liberated women by removing corsets. If makeup becomes a corset, it's not a good thing or a good message for women around the world.
How do you think about vanity?
If vanity makes you feel good and makes you productive, I think it's a good thing. I have nothing against it, a little vanity is not a bad thing. Of course, you can survive without it. But I don't think makeup only serves the interest of vanity and there's nothing wrong with looking good. What is vanity? How would you describe it? Is it about being selfish or caring about yourself? Then in that way, of course, it's not good.
Consider Mother Teresa. She didn't do hair or makeup. I love her, she was a fabulous person. Did she have vanity? Maybe she did in other areas, not relating to beauty. Maybe she enjoyed chocolate. That's part of vanity. [Laughs]
I don't think you can say trying to be beautiful is always a negative thing. I'm interested in making women look beautiful. People take it however they want, and I don't really give a damn honestly [Laughs]. If you're wearing a very red lipstick and that's considered vanity, you do your job well, and are good to your kids, would that be bad? And if you don't want to wear it, that's fine too. It's a free world. Everyone finds their way to be in this world.
What do you see as the future of beauty?
You know I'm not psychic. It's quite an incredible market, there's a mass globalization of makeup around the world. I try to stick to my vision. I'm hoping makeup will be a liberating accessory for women, and not feel like entrapment, like something they have to do rather than enjoy it. That it gives freedom, more than locking them into something that feels like an addiction they can't get off.
I hear women say they can't take off their makeup in front of their husband because they're afraid. That's a bit scary. If makeup becomes something they cannot see themselves without, that is a bit dangerous. I hope the future of makeup doesn't bring that. Some brands are having success in over-doing and over-painting women. But the problem is that after a while, you can get stuck looking a certain way. That would be a bad future for makeup, but maybe good for products. But as a message — maybe not the best message. Makeup should remain something fun to play with. I see it as always something you enjoy so that it doesn't become something you are so dependent on that you can't come out of the house with nothing. It should be freeing, rather than locking you into constraints.
This interview has been condensed and edited.