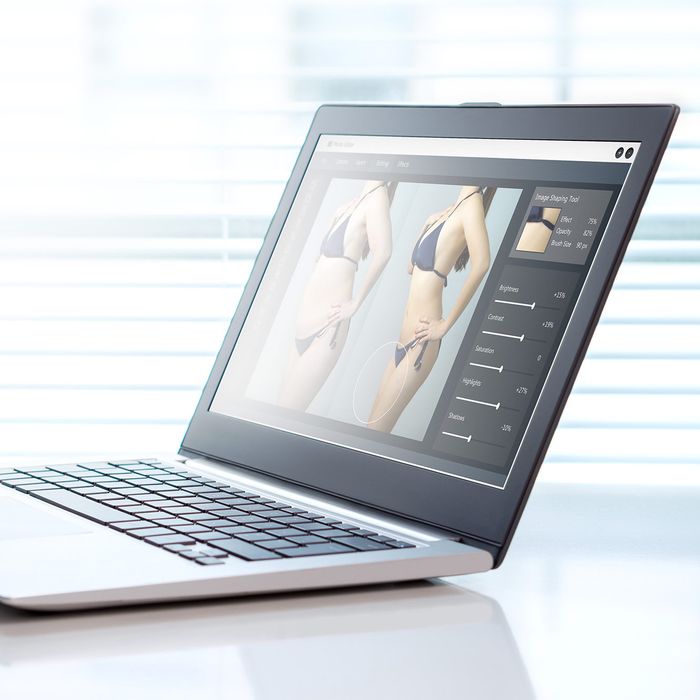 Photo: Tero Vesalainen/Getty Images/iStockphoto
French ads that have altered the models to look thinner will now read "Photographie retouchée" which translates to, "edited photograph." Beginning on Sunday, edited ads will carry the disclaimer, or be fined €37,500 ($44,102) or 30 percent of the cost of creating the ad, the BBC reports.
France, which is treating image doctoring as a public health issue, has the lowest average body-mass index (BMI) of any European country. The health ministry reported that 600,000 citizens suffer from anorexia. Marisol Touraine, a former health minister who introduced the legislation, told the Telegraph the law is meant "to avoid promoting inaccessible ideals of beauty and to prevent anorexia among young people."
Three's a trend — and there's hope that it is spreading outside of France.
The government's decision comes weeks after two Paris-based luxury conglomerates banned underweight models in their runway shows (including Saint Laurent and Louis Vuitton) through a mutual treaty. Just last week, Getty Images announced that any photographer that worked with them would have it written in their contract that they couldn't doctor models bodies to be substantially larger or smaller. And New York Fashion Week also had a record number of plus-size models walking the runway (a paltry 34 outside of plus-size brands Torrid and Addition Elle).
The wind of change is a-blowin'. Took us long enough.