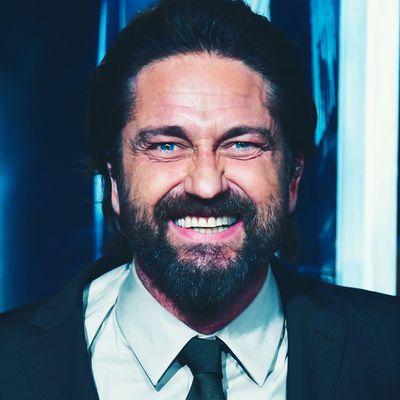 When you've become one with the bees.
Photo: FREDERIC J. BROWN/AFP/Getty Images
Here are some things I know about Gerard Butler: He's an actor. His name is not Gerald, even though it sure looks like it. He and Russell Crowe are quite possibly the very same person. And, he's injected himself with bee venom and subsequently had to go straight to the hospital. Twice!
As The Guardian reports, Butler's dalliances with bee juice happened while he was filming the upcoming disaster film Geostorm, a movie about what extreme weather conditions will be like in, uh [checks calendar], probably late 2018 or so.
He told British talk show Lorraine that he "had heard of this guy injecting bee venom, because apparently it has many anti-inflammatory compounds" and wanted to try it out after a long day of shooting.
"Then he gives me ten shots, and then I have the worst reaction. I kind of enter this anaphylactic shock. It's awful, creepy crawlies all over me, swelled up, heart's going to explode. But I go through it, and then I find out he gave me 10 times too much," he said, adding that he had to go to the hospital. A few days later, he decided to call his bee guy for round two. "I decide to do it again because, I think: 'Maybe I just took too much.' So, he's on the phone, and this time I have to go to the hospital [again]."
Butler is not the only star to purposefully put bee venom into his body, as Gwyneth Paltrow has gone public about being stung by bees for beauty.
Stars, they're just like us! (Incredibly dumb and willing to repeat past mistakes.)