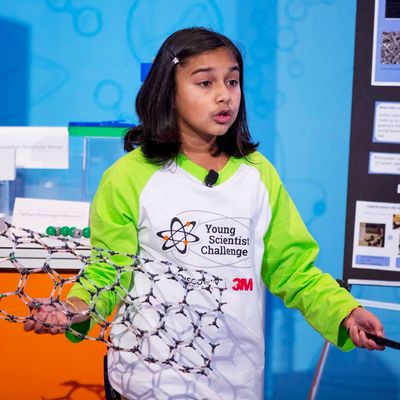 Gitanjali Rao.
Photo: Andy King/Discovery Education
Inspired by the water crisis in Flint, Michigan, an 11-year-old girl from Colorado invented a device that detects lead levels in water faster than other devices already on the market. Now, she's been named "America's Top Young Scientist" and awarded a $25,000 prize for her discovery.
As ABC News reports, seventh grader Gitanjali Rao of Lone Tree, Colorado, designed a device called Tethys, which quickly detects lead levels in water using carbon nanotube sensors. "I had been following the Flint, Michigan, issue for about two years," Rao told ABC News. "I was appalled by the number of people affected by lead contamination in water and I wanted to do something to change this."
Elevated lead levels were detected in Flint's water supply after the city was disconnected from Detroit's water line in Michigan's ill-conceived attempt to reduce costs. Instead, Flint began drawing water from the Flint River, subsequently poisoning countless children with lead. The city's water crisis is also believed to have killed 12 people with Legionnaires' disease, which is a severe type of pneumonia.
Rao's parents are both engineers, and she watched both of them try to test lead levels of the water in their home, seeing just how complicated the process can be. But Rao, who checks the MIT Department of Materials Science and Engineering's website weekly to "see if there's anything new," came across an article about new technologies that were being used to detect hazardous substances.
With help from her parents, teachers, and local university experts, Rao decided to see if the technique could be used to detect lead. Eventually, Rao was named one of the ten finalists of the 2017 Discovery 3M Young Scientist Challenge, which allowed her to team up with a 3M scientist to develop her design. She presented the device to judges in St. Paul, Minnesota, this week, and was named the grand prize winner on Tuesday.
"It's not hyperbole to say she really blew us out of the water," Dr. Brian Barnhart, an Illinois school superintendent and one of the 3M judges, told ABC News. "The other nine kids, they were also such amazing kids, so for her to stand out the way she did with a peer group like this is like an exclamation point on top of it."