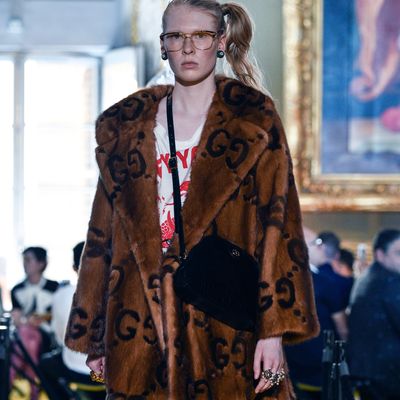 Model at the Gucci Cruise 2018 show in Florence, Italy.
Photo: Pietro D'Aprano/Getty Images
Gucci is the latest fashion brand to go fur-free. During a talk at the London College of Fashion on Wednesday, Gucci President and CEO Marco Bizzarri announced that as of its spring 2018 collection, the company will "no longer use, promote or publicize animal fur."
The brand also announced that it would be joining the Fur Free Alliance, an organization that "focuses on the deprivation and cruelty suffered by fur bearing animals both in wild trapping and industrial fur farming." In addition to refraining from any future fur use, Gucci will be organizing a charity auction to sell off its remaining animal fur items, with proceeds going to LAV, an Italian animal-rights group, and the Humane Society of the United States.
This is a significant departure for the company, which has previously incorporated animal fur into many of its designs, including kangaroo-fur-lined loafers. (In a statement from Gucci, the brand clarified it stopped using kangaroo fur for these loafers in the beginning of 2017, using lamb's wool instead.) As Vogue points out, though, the move is not entirely unexpected, given that Kering, Gucci's parent company, has been working toward increased sustainability for some time now. With its pledge, Gucci joins brands like Giorgio Armani, Ralph Lauren, Calvin Klein, and Madewell, which have also decided to forgo the use of fur.
This post has been updated to add Gucci's statement.