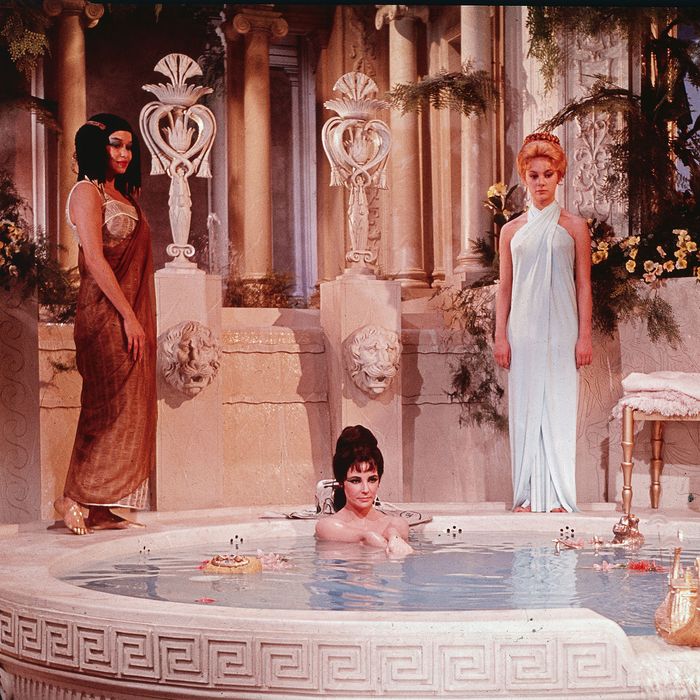 Elizabeth Taylor as Cleopatra, a certified fancy beauty person.
Photo: 20th Century Fox/Getty Images
Navigating the beauty world can be tricky, but we're here to help. Starter Pack is your guide to the essential products in every category of beauty.
So you've come into some extra cash and you'd like to upgrade the contents of your beauty cabinet. Congratulations! But proceed with caution: It's easy to overspend on products that don't actually do all that much. You'll need to shop smart if you want to become a bougie beauty person.
A bougie beauty item isn't difficult to spot. It's a product that at its core isn't particularly radical — a moisturizing mask, a nail polish — yet is amplified in some non-essential, puffed-up way. You know, to make it feel fancy. All bougie beauty products are fun — the high-class packaging! the smells! — but below, we've rounded up the ones that are true workhorses, not just show ponies. These lacquers, lipsticks, and bath salts are as functionally exceptional as they are beautiful. Read on for the Cut's Bougie Beauty starter pack.
The Best High-End Sheet Mask
There's only one expensive sheet mask that is actually worth the hype: SK-II's Facial Treatment Mask. It has an appealing implausible origin story. According to the legend, the scientists behind SK-II were visiting a sake brewery in Japan when they noticed that the workers had soft hands. Further research determined that a sake byproduct, a yeast called Pitera, was the source of the softness.
Yeast or no yeast, the mask makes my face feel soft and smooth at the same time — as if I were a doll brought to life. Celebrities like Chrissy Teigen and Demi Moore agree. It's the perfect way to kick off your bougie beauty lifestyle. The directions say to leave the mask on for 5 to 15 minutes, but I always wait at least an hour to maximize its usefulness.
The Most Stylish Nail Polish
Here's a secret: Most nail polishes are virtually the same. I don't mean the watered-down $2 laquer with the questionable pun in its name ("Rise and Lime Green," anyone?). But after a nail polish exceeds the $8 price point, it joins a league of very similarly formulated lacquers. At this threshold, it becomes a matter of how much you want to show off. Do you want to show off just a little? Choose Chanel. It's classic. It's expensive. It will look pretty on full display in your bedroom or bathroom. Start with the brand's cult oxblood shade, Vamp.
But perhaps that's not enough. In that case, you'll need to recruit $22 more and spend it all on a Louboutin lacquer. The dagger-like bottle is so inconveniently-shaped and vertically enormous that it can only reside prominently on your vanity. Though the formula is available in an array of electric colors, stick with the shade that made the brand famous: Rouge Louboutin. And then seal it with Julep's Freedom Polymer top coat: a thick, long-lasting clear layer that mimics the cushion of a gel.
A Truly Indulgent Bath Product
We all need to wash our bodies, but only the bougiest among us need gold flakes in our bath products. Find them in Molton Brown's Oudh Accord body wash, which smells rich (oud) and whose amber formula is literally flecked with gold.
Byredo's Bal d'Afrique is less gimmicky, but steeper in price. The bergamot-injected scent is a favorite of Karl Lagerfeld, Victoria Beckham, and Mandy Moore. Santa Maria Novella's Melograno bath salts aren't as modern (they're the product of a 600-year-old apothecary, after all), but they smell strongly of Mediterranean pomegranates, which is a pleasant vision to conjure while you're taking a soak.
Makeup That Goes the Distance
Tom Ford makeup is a bougie staple simply because it works so well. For instance, the Traceless Perfecting Foundation spreads smoothly and evenly over skin and dries to a natural finish — not quite matte, but not yet dewy. Alternatively, choose one of the brand's 32 lip colors for creamy, intensely-pigmented lips, which includes the perfect nude, "Sable Smoke."
Kjaer Weis and rms are two "natural" brands that will make you feel good with ingredients that are soothing and easy to pronounce — think coconut oil, vitamin E, and shea butter. Unsurprisingly, self-appointed green beauty-guru Gwyneth Paltrow loves rms's cream-based lineup. If you want a natural glow on the apples of your cheeks, try rms's Living Luminizer. Or, for a soft, sheer wash of color in a universally flattering shade, give the brand's Lip Shine a try.
Kjaer Weis, on the other hand, is a bit heavier. It's metal packaging — which is outfitted with a removable bottom to accommodate refills — is weighty, which makes it feel luxurious. The brand's blushes are quietly transformative — conjuring the most natural flush when tapped onto cheeks. Their lipsticks, both ultra creamy and long-lasting, are a modern marvel. The shade "Affection," in particular, is the perfect incarnation of salmon pink.
A home simply isn't bougie unless it's scented with an excessively expensive fragrance. In this category, Diptyque gets the most airtime. The French perfumer's warm berry scent, Baies, is a crowd-pleaser (and the fragrance of choice for Iman). The large, all-black candle is flush with the feel of modernity and the Baies room spray is a chic upgrade to a bland Febreeze can.
But while Diptyque is the obvious option, a lesser-known alternative is Fornasetti. Piero Fornasetti was a 20th-century Italian artist, and today his empire spans ashtrays, plates, furniture, and … candles. Each candle is poured in a pot of ceramic that's painted with one of his sketch-like designs for a reserved sense of luxury. New York Magazine's Fashion Director Rebecca Ramsey has Fornasetti's lily of the valley candle on her desk, and it smells clean and elegant.
"Silenzio," Fornasetti's earthy cedarwood and lavender fragrance, has a cheekier design. One side of the candle features a winking eye, while the other bears a face that is seemingly "shhhh-ing" its owner. What does it want us to keep quiet about? Perhaps the price. One candle retails for $195.
If you buy something through our links, New York may earn an affiliate commission.