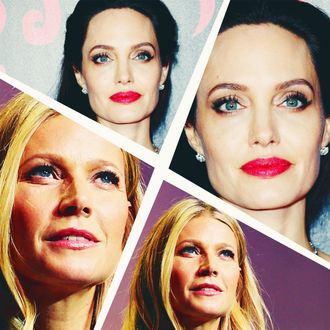 Last week, a New York Times story by Jodi Kantor and Megan Twohey exposed the long litany of sexual harassment allegations brought forth against powerful film producer and executive Harvey Weinstein. A Tuesday story in The New Yorker by Ronan Farrow included more accounts of actresses and employees who say they were harassed and sexually assaulted by Weinstein. Until now, Weinstein's behavior has been an open secret in Hollywood, though celebrities have since been coming forward either to comment on the situation or reveal their own run-ins with him. The latest to do so? Gwyneth Paltrow and Angelina Jolie.
Both prominent actresses went public with their claims to the New York Times, with Paltrow alleging that Weinstein harassed her when she was 22 years old and landed the lead role in his adaption of Jane Austen's Emma. She said he invited her to his hotel suite and tried to get her to go into the bedroom to get massages.
"I was a kid, I was signed up, I was petrified," she told the Times. "I thought he was going to fire me."
Paltrow says she refused his advances and told her then-boyfriend Brad Pitt; when Pitt approached Weinstein about it, the producer told her not to tell anyone else. "He screamed at me for a long time," she recalled. "It was brutal."
Jolie also said that she rejected Weinstein's come-ons in a hotel room in the late nineties, when she starred in Playing by Heart.
"I had a bad experience with Harvey Weinstein in my youth, and as a result, chose never to work with him again and warn others when they did," Ms. Jolie said in an email. "This behavior towards women in any field, any country is unacceptable."
Tomi-Ann Roberts, Rosanna Arquette, Katherine Kendall, Judith Godrèche, and Dawn Dunning also shared their stories of Weinstein's harassment with the Times.