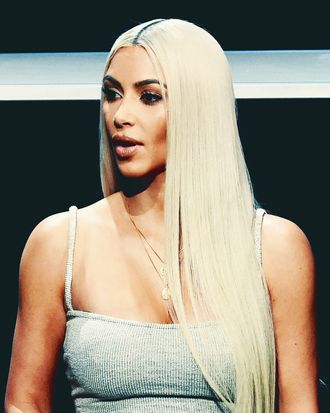 Kim Kardashian; hair by César Ramirez.
Photo: Kevin Winter/One Voice: Somos Live!/Getty Images
Around this time last year, I worked with César Ramirez — hairstylist to Ciara, Kim Kardashian, and Rita Ora — on a photo shoot. In a comedic slant, I served as a model. To prep my hair, Ramirez massaged in all sorts of goos and conditioners, and then he capped off the look with a few puffs of powder, to fill in sparse areas around my hairline. Like magic, I had young, thick hair again. I couldn't help but think: was every famous person faking full edges as well?
If your hair is naturally thin, if you are over 30, or if you've ever worn ponytails or braids that were a bit too tight, then you are likely familiar with the horror of thinning edges. Thinning around the hairline is as ubiquitous as a face zit, yet it is largely untreatable at an affordable price. If you notice thinning early on, you might be able to prevent further damage by switching hairstyles or trying out a doctor-prescribed anti-inflammatory, but aside from a hair transplant, there's little to be done. You must fake it.
Toppik's "Hair Building Fibers" is one way to fudge a fuller hairline. The "fibers" are more or less a form of tinted powder that you shake onto your scalp. It's an unremarkable concept that is impressively effective. The powder, which is available in nine shades, subtly darkens the scalp to feign fullness. Though there are a number of competing "hair fiber products" Toppik's is the most user-friendly. You can shake the powder directly onto your scalp, or screw Toppik's "Spray Applicator" onto the bottle for a more diffuse application. Even better, you can lay Toppik's comb-like "Hairline Optimizer" parallel to your hairline before shaking the fibers onto your scalp. The Hairline Optimizer's "teeth" mimic the shape of individual hairs so the hair building fibers appear even more natural. Think of it as spray-painting with a stencil.
It would be mortifying if the fibers migrated down your forehead, so it's fortunate that Toppik's don't move (you can also spritz some hairspray over the fibers if you'd like, for peace of mind). The fibers aren't drying and won't change your hair's texture. Though the fibers are smudge-proof, you will need to reapply a smaller amount the next day to touch up. And when you want the fibers completely out of your hair, just step into the shower for a quick shampoo. The whole ordeal is so easy and its result is cleverly deceptive; it has my name written all over it, and probably yours, too.
If you buy something through our links, New York may earn an affiliate commission.