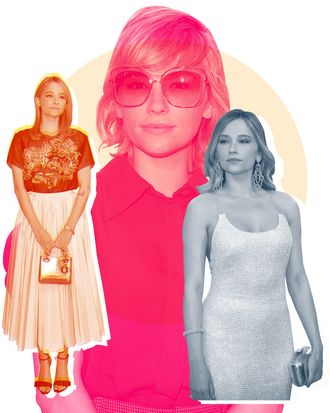 Photo-Illustration: Jeni Zhen; Photos: Getty Images
Haley Bennett is an actress and a lover of pie. She brought an apple pie to her Magnificent Seven audition and a lemon meringue one to Girl on the Train — and got the job both times. More recently, Bennett has become one of the newest faces of Chloé's signature Eau de Parfum, following in the footsteps of Clemence Poesy and Dree Hemingway. (The brand is also launching Absolu de Parfum, a more concentrated, limited-edition version of the original). The Cut talked to Bennett about her favorite New York Thai restaurants, her love of ballet, and, of course, pie.
How I start my mornings: With coffee. I like to read the New York Times in bed. Sometimes I put a face mask on. I'm a morning person — I get up around 8 a.m. but it depends on what time zone I am in. I like to put on a soft robe and patter around and listen to music. Sometimes I'll walk my dog to the coffee shop and have a croissant and a cold brew. I have a simple life aside from being in this crazy business.
My first scent memory: My grandfather's rose garden. It was a grand gesture. My grandmother loved them, and he grew them for her in Ohio. He was always planning his garden and was a romantic man. I can still remember the rain on the roses. They were red roses; some white ones, too.
What wellness means to me: Trying to stay balanced and listening to my body like, What do I need today? Do I want to do yoga or meditate or do a dance class or slow down or read a book or eat a slice of pizza or learn to tap dance?
How wellness has changed for me over time: I've learned to be a lot more accepting of myself. It's something that happened with age. I'll be 30 this year. In your 20s, you're more about what makes other people happy. Reaching your 30s, it's more about doing what makes me happy. Being in the acting industry, I've realized that it's a constant thing I've striving for, rather than something I've accomplished which is perfect.
How I like to sweat: I go to Ballet Beautiful. My lifelong dream is to be a ballerina, but I don't have that dedication. I've just always loved leotards and girliness. I love the girls who conduct the classes. I have to climb about seven flights of stairs to get there because there is no elevator. That really gets things going. I always say, "My workout is done by the time I get there." I've seen Dree [Hemingway] there, too. I'll try to go three times a week, but life sometimes gets in the way. When I'm in New York, I'll go regularly. Living in New York and doing a lot of walking works also.
How I eat when I'm alone: I love going to Thai restaurants. I love spicy and ethnic food. I'm not that big on salads. I love Som Tum Der. There's a place in Brooklyn called Pok Pok which I love, and a new one near Bowery called Fish Cheeks. It's really good. I love Som Tum Der's salad with the fish sauce. I like larb, but unfortunately Fish Cheeks doesn't have that.
I do like cooking in the kitchen where I know where everything is in the cupboard and I'm familiar. I don't remember the last time I was home, though, which is sort of sad. I love cooking Italian food and elaborate things which take a long time, when I have it. It will be pie season soon. I try to make perfect, really good-looking holiday pies. Not the kind which are concave, but the really good ones.
My wellness struggle is: Probably not drinking enough water and drinking too much coffee.
My best wellness tip is: Sleep. I like to put a lavender essential oil on my pillow. I need to get myself into a mood. Sometimes I need a book or the lavender oil or both. Right now, I'm reading Anna Karenina and then after that, I'll move onto The Brothers Karamazov. The problem is that I'll actually end up not sleeping and keep reading. So don't take my advice, actually, or you'll never go to sleep.
I love the Japanese approach to skin care which is just layering, layering, layering. There's a San Francisco brand I love called In Fiore, which is really natural and organic and she makes beautiful essences for the face, balms, and moisturizers.
I like Joanna Vargas, a fellow New Yorker. She has really beautiful sheet masks. I like the one called Twilight, I use it sometimes when I wake up.
I'll Skype with Yuki or Mary Helen Bowers when I am traveling — very rarely though, I'm usually so tired.