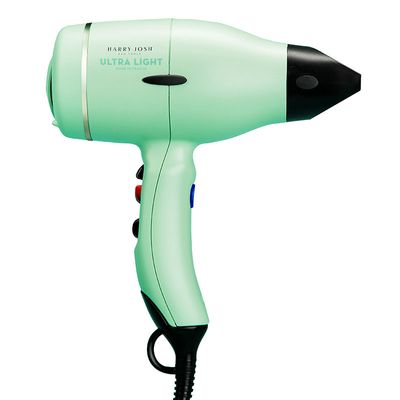 Harry Josh Ultra light Dryer
It's easy to bemoan technology. Instagram? What a waste of time. Facebook? Too many blurry photos, Aunt Judy! Twitter? Why do I care about strangers' opinions again? But sometimes technology brings us what we really need: Faster and lighter hair dryers so we can get on with our day already.
Harry Josh, the man who brought us the Rolls-Royce of curling irons (and Gisele's perfect beach waves) has just released the Bentley of hair dryers. It weighs less than a pound — far lighter than even barre class weights, and even lighter than the highly acclaimed Dyson, which weighs 1.8 pounds. And it's fast — probably faster than the car you drove in high school, since it blows air at a consistent speed of 94 miles per hour. On top of all that, it's so quiet that you can actually have full-on conversations while using it.
The dryer also comes with a number of other fancy features, like twelve heat settings so that your only choices aren't "cold" or "scalp-scorchingly hot." There's an extension cord that reaches up to 11 feet, which makes it perfect for apartments where electrical outlets are scarce. The dryer also uses negative ion technology, which is a fancy way of saying that it will dry your hair but not dry it out.
When I tried it, I found that my shoulder-length hair dried in less than ten minutes. The dryer didn't strain my wrists and the heat didn't work my hair into a puffy, frizzy frenzy. It smoothed my hair even though I didn't use a brush, and it added volume when I focused the air at the roots. I could see how this is a slam dunk for professional hairstylists — and a wise investment for those who blow dry their hair every day. All-in-all, it's a pretty perfect hair dryer — at least for now. I'm hoping technology brings us robot hair dryers next.