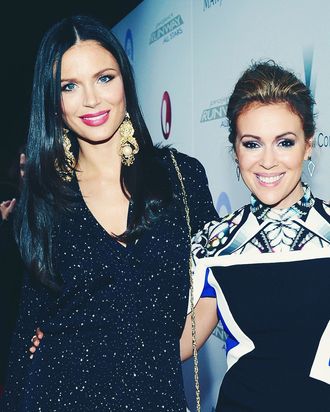 Alyssa Milano (at right) and Georgina Chapman.
Photo: Ilya S. Savenok/Getty Images for The Weinstein Company
Alyssa Milano says she waited a few days to comment on the Harvey Weinstein allegations out of respect for Weinstein's now-estranged wife, Georgina Chapman. In a blog post on her website, Patriot Not Partisan, Milano wrote on Monday that she stands with Weinstein's alleged victims. But speaking out against Weinstein, she added, "is complicated for me for personal reasons."
"Harvey has a wife, who I have had the privilege of working with for the last 5 years on Project Runway All Stars," Milano explained. "Georgina Chapman is my friend. She is one of the most special humans I have ever met. Harvey and Georgina also have two very young children who my children have known their entire lives. It is because of my love for Georgina, India and Dashiell that I haven't publicly commented on this until now. Please don't confuse my silence for anything other than respect for a dear friend and her beautiful children."
After publishing her post, Milano retweeted a photo with the words "I Stand With Rose," referencing her Charmed co-star Rose McGowan, who settled with Weinstein after an "episode" in a hotel room in 1997.
Project Runway All Stars was produced by the Weinstein Company. Milano served as a host, and Chapman, who co-founded the fashion line Marchesa, served as a judge. Chapman announced on Tuesday that she is leaving Weinstein.