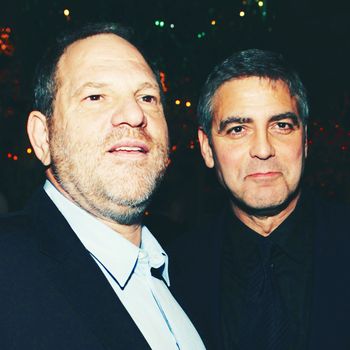 Harvey Weinstein and George Clooney.
Photo: Patrick McMullan/Patrick McMullan via Getty Image
Welcome to You Know What I Heard, the Cut's weekly celebrity gossip column about the peregrinations of the rich and famous. Have gossip? Email me at allie.jones@nymag.com, send me a message on Twitter, or contact me on Signal (ask for the number).
Last Thursday, the New York Times dropped its bombshell report about Harvey Weinstein's long history of alleged sexual harassment. The board of the Weinstein Company voted to fire him on Sunday, and many more women came forward with stories about him over the weekend: TV reporter Lauren Sivan said Weinstein trapped her in a restaurant kitchen and masturbated in front of her; actress Romola Garai said that when she was just 18, she had to meet a bathrobe-wearing Weinstein in a hotel room to be "approved" for a film role. "You can't find an actress that doesn't have that kind of story about Harvey," Garai told The Guardian.
Now, Hollywood stars are making calculations about when and how to speak out against Weinstein. So far, it's been mostly women: Meryl Streep and Judi Dench, whose careers were nurtured by Weinstein, released statements over the weekend, with Streep asserting that "not everybody knew" about Weinstein's egregious, coercive behavior and the financial settlements he made with his accusers. Last night, George Clooney became the first big male star to comment on the story in an interview with the Daily Beast. He, too, said he had no idea about the extent of the issue.
After noting that Weinstein gave him his first big breaks as an actor and as a director, and after calling Weinstein's behavior "indefensible," Clooney addressed the fact that there have been rumors about Weinstein's predatory behavior for decades.
I've heard rumors, and the rumors in general started back in the '90s, and they were that certain actresses had slept with Harvey to get a role. It seemed like a way to smear the actresses and demean them by saying that they didn't get the jobs based on their talent, so I took those rumors with a grain of salt. But the other part of this, the part we're hearing now about eight women being paid off, I didn't hear anything about that and I don't know anyone that did. That's a whole other level and there's no way you can reconcile that. There's nothing to say except that it's indefensible. …




A lot of people are doing the "you had to know" thing right now, and yes, if you're asking if I knew that someone who was very powerful had a tendency to hit on young, beautiful women, sure. But I had no idea that it had gone to the level of having to pay off eight women for their silence, and that these women were threatened and victimized. I've been talking with a lot of people about this, and I don't know many people who knew of that.
Of course most people did not know about the settlements: That's the whole point of them. But, like Garai said and Clooney admitted, everybody knew something. At the very least, it was public that Weinstein was accused of groping a 22-year-old model in 2015.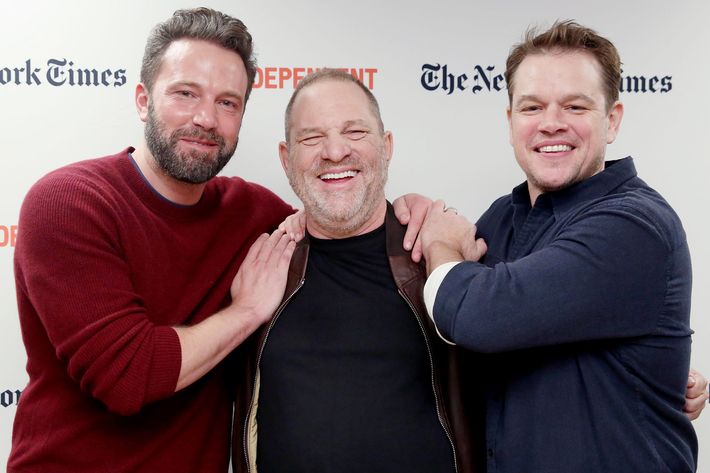 So who will speak out next? Weinstein made the careers of Ben Affleck and Matt Damon with Good Will Hunting in 1997, but once again, these two have been conspicuously silent about alleged sexual harassment by a close friend (or brother). Over the weekend, The Wrap's Sharon Waxman claimed that Damon helped kill her investigation into Weinstein's behavior back in 2004, when she was reporting for the Times. Waxman said she had evidence that Weinstein paid a settlement to a woman in London after an "unwanted sexual encounter," and that the Times's editors ultimately "gutted" her story after Damon and Russell Crowe called her personally to vouch for Weinstein. (Times editor Dean Baquet responded to Waxman's claims here.)
Funny enough, Clooney brought up Waxman's story with the Daily Beast, but he did not mention his good buddy Matt Damon's reported involvement in it. Did Damon know about a settlement?
As the Weinstein fallout dominates the news, some celebrities are continuing with business as usual. Leo DiCaprio and the most loyal member of his Pussy Posse/Wolfpack, Lukas Haas, were spotted with two new, young models in Paris last week: Juliette Perkins (blonde) and Candice Blackburn (brunette). They went to the Musee de L'Orangeri. This was just a week after DiCaprio was spotted in New York City going on dates with two other young models in one night: He took Lorena Rae (brunette) to the mall, and then he took his ex-girlfriend Toni Garrn (blonde), to dinner. It seems Perkins and Blackburn are friendlier with each other than Rae and Garrn.
Get ready for photos of Angelina Jolie cuddling "rescued orphaned cheetahs." Per "Page Six," Jolie recently posed for Harper's Bazaar at "a wildlife sanctuary owned by her friends" in Namibia. The photos will be featured in the November issue, and it's unlikely an interview will accompany them: "Page Six" says Jolie wrote "a love letter to Namibia" instead. So, it seems, Jolie is done talking about her divorce from Brad Pitt (not that she ever said that much at all). She's not done making visual statements, though: "Page Six" reports that all of her children traveled to the photo shoot with her and went "sandboarding" nearby.
One last thing to keep an eye on: Vanity Fair confirmed yesterday that Reese Witherspoon and Ryan Phillippe's 18-year-old daughter Ava will make her debut at le Bal des Débutantes in Paris at the end of November. Plenty of celebrity kids have attended the ball in the past, like Larry David's daughter Romy and RFK Jr.'s daughter Kyra. Will Witherspoon and Phillippe, who got divorced in 2007, both attend? Phillippe still has some issues to resolve.
Small blessings from this week:
Meg Ryan and John Mellencamp "chatted intimately" at a Broadway play. Hilary Duff got back together with one of her boyfriends. Andy Cohen offered to mediate the Ivana/Melania feud. Meghan Markle got a special car. Jesse Plemons talked about Kirsten Dunst. And Jennifer Garner did cryotherapy.
Finally, we ask an influential person, "Where did you last hear a good piece of gossip?"
"The last time I heard a good piece of gossip, I was at a bar in midtown Manhattan without any cellphone reception."
—Mariah Smith, writer, producer, America's foremost Kardashian expert
Thank you all for gossiping this week. Don't forget to email me at allie.jones@nymag.com, send me a message on Twitter, or contact me on Signal, if you'd like to chat.