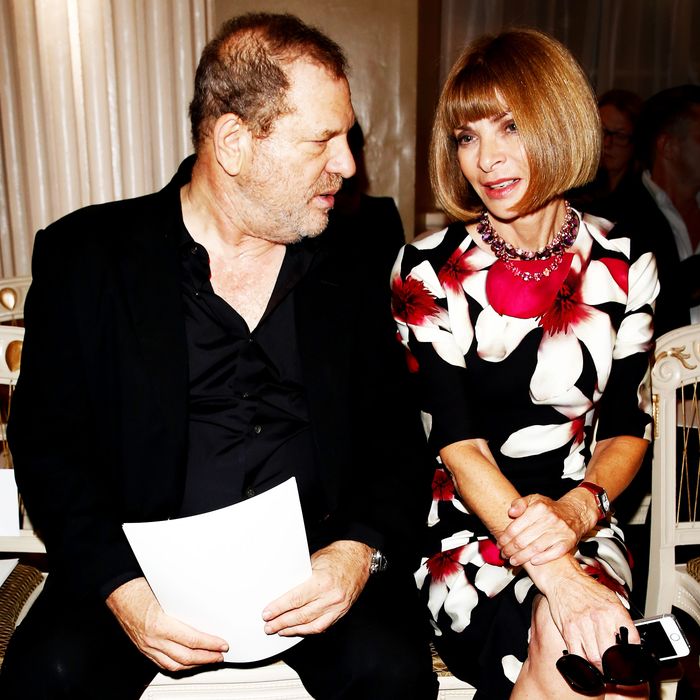 Harvey Weinstein and Anna Wintour at Marchesa's spring/summer 2015 show in London.
Photo: Tim P. Whitby/Getty Images for FIJI Water
It shouldn't come as a surprise to anyone that Harvey Weinstein loved fashion, but what is surprising is just how much fashion loved Harvey Weinstein back. Shouldn't everything about this leering, groping, heavy-breathing man have set off all the alarms of this female-dominated industry?
In the fashion world, self-presentation counts for a lot, but Weinstein was slovenly, he was disheveled, he was a wreck. It's difficult for women to get away with his level of slobbishness in any high-level professional universe, and it's extra-difficult in the front row at Dior. That Harvey was excused from the realm of expected behavior was yet another, unspoken comment on the degree to which he was powerful, the degree to which men live by a different set of rules.
Harvey's most powerful years coincide with a very specific time in the fashion industry — a time when celebrities were ascendant. In 1999, Linda Wells, then the editor of Allure magazine, told the New York Times that no one wanted to look at models on magazines anymore; in 1999 Miramax won ten Oscars. Vogue saw newsstand increases as high as 40 percent with celebrity covers. Some of the first stars Anna Wintour put on Vogue — Renée Zellweger and Gwyneth Paltrow, for example — were in the process of becoming Miramax fixtures, via films like Bridget Jones's Diary and Shakespeare in Love, films that neatly complemented the Vogue reader's taste. It was during that time that Vogue (and many other magazines) began hiring editors whose entire jobs were communicating and negotiating with Hollywood. This was the birth of celebrity fashion-journalism: covers to coincide with big releases, tightly controlled stories where the divulgence of confidences regarding divorces and babies and personal struggles could make news by themselves.
A mutually beneficial relationship developed quickly between Weinstein and Vogue, which is not to say any one at Vogue knew about Weinstein's behavior. But the content all worked together nicely, and an actress with cultural cache was a win for the magazine, the promotion for the film was a win for Weinstein, and the advertisers got a convenient proof of concept for how bankable a particular celebrity could be for them. Turns out, the imprimatur of the magazine cover, more than the actual film, made an actress eligible for the lucrative world of contracts and endorsements. Contracts of that scale offer actresses long-term financial security in an industry where your best earning years are famously short. Perhaps that kind of financial security could to lead to a life of rejecting certain roles and, ultimately, rejecting certain producers.
A young actress who saw Harvey Weinstein in a front-row huddle with Anna Wintour knew what she risked when she rejected his revolting come-on, and it was way bigger than any single part. There are so few women who achieve that level of stardom and money, and to look at them as a list is to realize that they have all been endorsed by both Harvey Weinstein, and American Vogue, usually at exactly the same time. It wasn't only Wintour—Weinstein's many relationships with powerful people (right up to the Obamas) functioned that way, adding to a general aura of invincibility.
If there were elements of the fashion industry that gave me pause when I went to work at Vogue almost two decades ago, meeting so many no-nonsense, hardworking, intelligent, and admirable women put me at ease.
The professionalism, and frankly the kindness, of my colleagues overwhelmed any reservations or doubts. Right before I accepted that job, I saw two of fashion publishing's most visible and powerful positions offered to pregnant women, and I saw that no one was shocked. I appreciated that this was a world where women were expected to thrive. Fashion is far from a feminist nirvana, but it has, historically, been an industry with great career opportunities for women.
But if you zoom out of the offices, fashion has a whole world of problems. Yes, Wintour herself was firm in her condemnation of her (one presumes former) friend, calling his behavior "appalling and unacceptable," and stating that "we all have a role to play in creating safe environments where where everyone can be free to work without fear."
If the women who work in the upper levels of the fashion industry are frequently shielded from the day-to-day experience of sexual harassment, bullying, and abuse that color industries with fewer women in positions of power, how does it reconcile the drumbeat of harassment reported by the women throughout the business? Why is this industry, which is run by a number of truly extraordinary and, I believe, moral women so frequently dreadful at protecting its own? It's sickening to read the model Cameron Russell's Instagram this week, where other models have begun posting their stories under the hashtag #myjobshouldnotincludeabuse. Do the women who work in the highest levels of the fashion industry turn the same kind of blind eyes as our peers in film? What does fashion owe the models who have had to pose for Terry Richardson, and every other lecherous photographer out there (there are a lot), or tolerate abuse from bookers or agents or anyone else — or to the celebrities who felt that they had to endure, placate, and keep silent about Harvey Weinstein in order to make it to the cover of Vogue?
This post has been updated to include a quote from Anna Wintour on the Weinstein revelations.