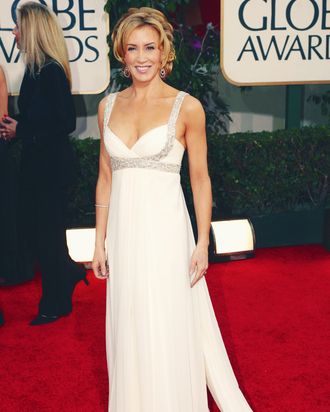 Felicity Huffman at the 2006 Golden Globes wearing Marchesa.
Photo: Jeff Kravitz/FilmMagic
On Thursday night in Los Angeles at the Eva Longoria Foundation Gala, actress Felicity Huffman confirmed that Harvey Weinstein forced her to wear Marchesa, his wife's fashion label.
"Yeah, it's true," Huffman told TooFab on the red carpet. According to the outlet, this was in response to a rumor that Mr. Weinstein threatened to stop financially supporting the promotion of Huffman's 2005 Oscar-nominated drama Transamerica, if she didn't wear Marchesa at various red carpet events. It's no coincidence, then, that Huffman was seen wearing the brand at the 2006 Golden Globes, when she was nominated for her role in the same film, and won.
After doing some digging this week, Jezebel discovered that "frequently when a Marchesa gown appeared on a red carpet, the celebrity wearing it just happened to also be appearing in a film produced by Weinstein." (See Sienna Miller, Blake Lively, Anne Hathaway, etc.) They also found a Vogue article from 2013, in which Weinstein admits: "Maybe I helped, but just very, very little, with Renée Zellweger," in regards to getting his wife's brand, which she founded in 2004, off the ground.
"[He] wasn't exactly subtle about asking Miramax's female stars to wear Marchesa on the red carpet," an anonymous fashion insider told "Page Six" last weekend, following the Times report. In 2013, "Page Six" also reported that Kerry Washington upset the producer when she refused to wear Marchesa to the Oscars.
Of course, forcing someone to wear a dress is arguably the least serious of the allegations coming out against Harvey Weinstein right now, but it is still indicative of his desire to control women's bodies. Additionally, in trying to help his wife, he seems to have only hurt her and her brand even more.