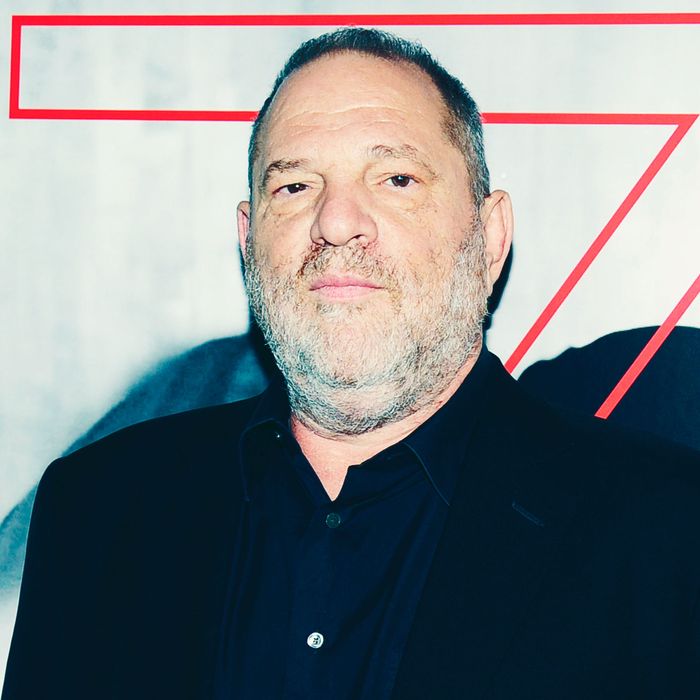 Harvey Weinstein.
Photo: Paul Bruinooge/Patrick McMullan via Getty Image
This morning, The New Yorker published their awaited investigation into the sexual harassment and abuse allegations against Harvey Weinstein. Reporter Ronan Farrow talked to 13 different accusers, three of whom accused Weinstein of rape. Farrow also procured disturbing audio of Weinstein trying to force one of his accusers into a hotel room in 2015. You can and should read the entire piece here, but one scene in particular is worth highlighting.
In a statement to The New Yorker, a spokesperson said that Weinstein denies the rape allegations, and that he "believes that all of these relationships" with his accusers "were consensual." That does not square with what Emily Nestor, a former Weinstein Company assistant, told Farrow about a meeting she had with Weinstein in 2014. After being introduced to Weinstein on her first day on the job, he asked her for a meeting at the Peninsula Hotel in Beverly Hills. She agreed to meet him for an early-morning coffee after some deliberation, and this is what happened:
Nestor told me that the meeting was the "most excruciating and uncomfortable hour of my life." After Weinstein offered her career help, she said, he began to boast about his sexual liaisons with other women, including famous actresses. "He said, 'You know, we could have a lot of fun,'" Nestor recalled. "I could put you in my London office, and you could work there and you could be my girlfriend." She declined. He asked to hold her hand; she said no. In Nestor's account of the exchange, Weinstein said, "Oh, the girls always say 'no.' You know, 'No, no.' And then they have a beer or two and then they're throwing themselves at me." In a tone that Nestor described as "very weirdly proud," Weinstein added "that he'd never had to do anything like Bill Cosby." She assumed that he meant he'd never drugged a woman. "It's just a bizarre thing to be so proud of," she said. "That you've never had to resort to doing that. It was just so far removed from reality and normal rules of consent."
Oh, the girls always say "no." For someone who believes all of his relationships with women have been consensual, this is an odd thing to admit. The scene illustrates exactly how Weinstein has operated, knowingly using his power and influence to manipulate women into acting against their will. But he never had to do anything like Bill Cosby.