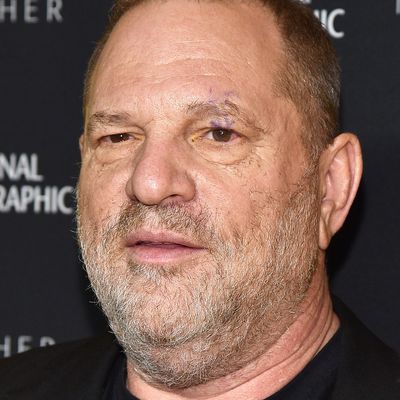 Weinstein.
Photo: Bryan Bedder/Getty Images for National Geogra
In addition to a bombshell report alleging decades of sexual harassment allegations against Hollywood megaproducer Harvey Weinstein, the New York Times has released an accompanying statement from Weinstein. In the bizarre mea culpa, Weinstein apologizes for his conduct, before comparing himself to Jay-Z and announcing plans to take down the NRA.
He begins by saying that things were different back in the day. "I came of age in the 60's and 70's, when all the rules about behavior and workplaces were different," he writes. "That was the culture then. I have since learned it's not an excuse, in the office — or out of it. To anyone."
Weinstein says he realized "some time ago" that he needed to change the way he acted with colleagues, and that he recognizes and "sincerely apologize(s)" for pain he has caused. He says he will be taking a leave of absence from work and has asked attorney Lisa Bloom to "tutor him." He is now on a journey to "learn about [himself] and conquer [his] demons."
In the accompanying Times piece, Bloom — a longtime women's advocate who defended a number of Bill O'Reilly's alleged victims — describes Weinstein as "an old dinosaur learning new ways" and said she had to explain to him how his actions with women could have been perceived as inappropriate and intimidating.
Then, for some reason, Weinstein goes on to compare himself to Jay-Z.
"I so respect all women and regret what happened. I hope that my actions will speak louder than words and that one day we will all be able to earn their trust and sit down together with Lisa to learn more. Jay Z wrote in 4:44 "I'm not the man I thought I was and I better be that man for my children." The same is true for me. I want a second chance in the community but I know I've got work to do to earn it.
The apology ends on a strangely vengeful note.
"I am going to need a place to channel that anger so I've decided that I'm going to give the NRA my full attention. I hope Wayne LaPierre will enjoy his retirement party. I'm going to do it at the same place I had my Bar Mitzvah. I'm making a movie about our President, perhaps we can make it a joint retirement party. One year ago, I began organizing a $5 million foundation to give scholarships to women directors at USC. While this might seem coincidental, it has been in the works for a year. It will be named after my mom and I won't disappoint her."
Read the full statement here.
Update: As The Fader points out, Weinstein also misquoted Jay-Z.