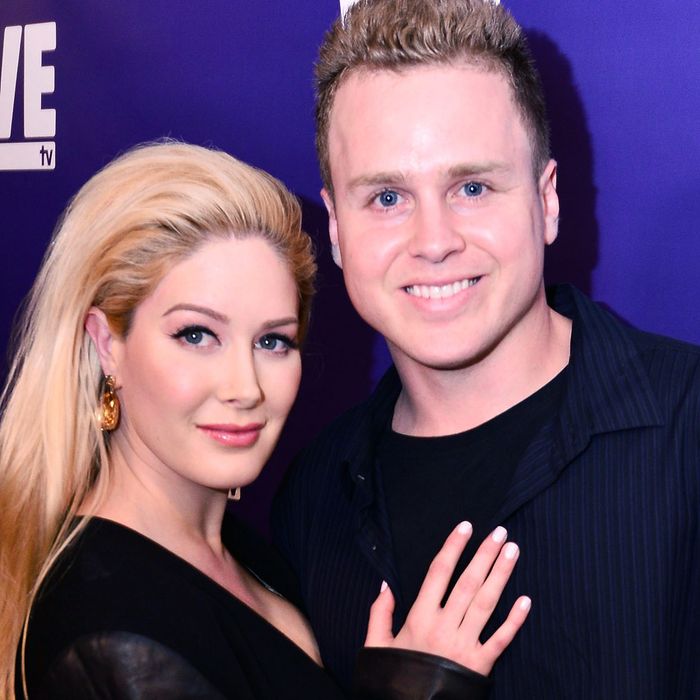 Heidi Montag and Spencer Pratt.
Photo: Jerod Harris/Getty Images for WE tv
On Sunday, Hills alums and Alex Jones travel buddies Spencer Pratt and Heidi Montag welcomed their first child, a six-pound, 12-ounce baby boy named Gunner Stone. Montag told Us Weekly, "We are so blessed to have a beautiful healthy baby boy. It was the hardest and most rewarding experience," while Pratt described it as "officially the most lit day of my life."
The proud father and crystal connoisseur tweeted his extremely lit announcement on Sunday night, along with a shout-out to the West Hollywood store Crystalarium for "dropping off $27,000 in crystals for the birth."
"Of course!!" Crystalarium replied in a tweet. "We were honored to be a part of the birth! And we're super excited for your awesome family!!"
Given how much time and thought the couple put into ensuring their child got a name with a good social-media handle, one can safely assume it's only a matter of time before little Gunner Stoner develops an active Twitter and Instagram presence. Who knows, maybe he'll even give tiny social-media superstar Asahd Khaled a run for his money.