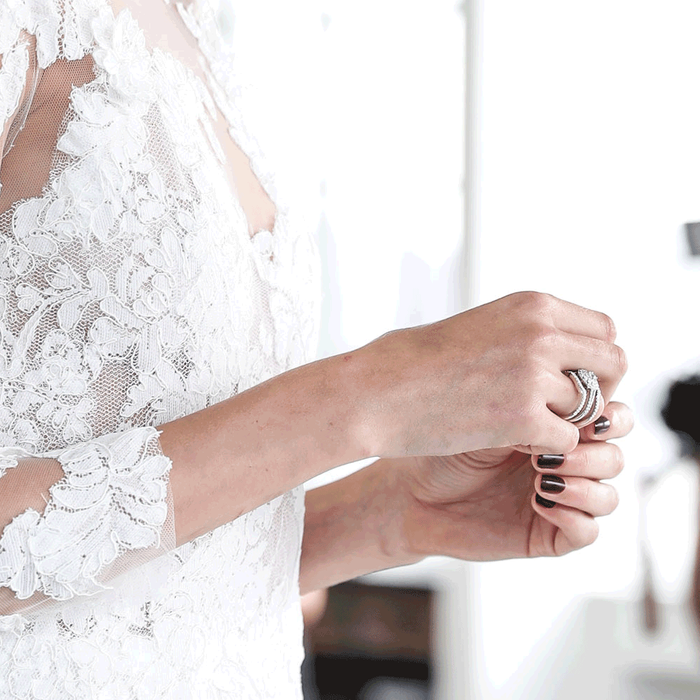 Marchesa Bridal fall 2018.
Photo: Getty Images
In the days following the Times report of Harvey Weinstein's serial acts of sexual harassment, many are distancing themselves from the Hollywood producer, as well as Marchesa, the fashion brand of his wife, Georgina Chapman.
Chapman herself announced on Tuesday that she will be leaving her husband of ten years, saying that "Caring for [her] young children is [her] first priority." As a result, the operations of her brand are on hiatus as well.
Prior to the Times report, Chapman was in the thick of bridal week. Coincidentally, the presentation for her fall 2018 Marchesa Notte bridal collection took place at almost the exact same time that the Times published its report. In the hours after, Chapman posted cheerfully about the presentation on her personal Instagram, as though everything was business as usual, but of course, it wasn't.
Marchesa has since "postponed" its bridal appointments, per an email from a representative on Wednesday. The jewelry brand Helzberg Diamonds has also reportedly dropped its "Marchesa Radiant Star" engagement ring collaboration with Marchesa, which it announced the same day as the Times report and the bridal presentation.
According to The Hollywood Reporter, a representative for Helzberg confirmed that "the company is not launching the Marchesa brand at this time," but had no further comment for the outlet. Links referencing the Marchesa collaboration also appear to no longer work, and the jewelry is now listed simply as "Radiant Star."
The full effect that Mr. Weinstein's actions will have on his wife's brand have yet to be seen, but engagement rings and brides aside, it will no doubt be difficult to find celebrities who want to wear Marchesa gowns for future red-carpet appearances — something Mr. Weinstein himself reportedly had a strong hand in. Of course, as Chapman would probably agree, dresses are the least of everyone's problems right now.