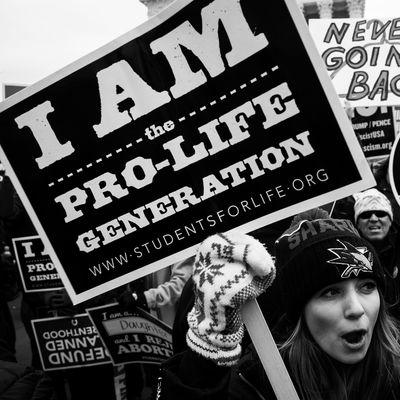 March for Life participants.
Photo: Drew Angerer/Getty Images
After two previous attempts in 2013 and 2015, the U.S. House of Representatives approved a bill on Tuesday that would ban most abortions after 20 weeks of pregnancy, with exceptions in cases of rape and incest, or when the mother's life is at risk.
Although the bill is not expected to pass the Senate, the Pain-Capable Unborn Child Protection Act has been endorsed by the Trump administration, with the White House saying in a statement on Monday that it "applauds the House of Representatives for continuing its efforts to secure critical pro-life protections." And though it is unlikely it will receive the votes necessary to proceed to President Trump's desk, Senator Lindsey Graham said he would introduce the companion bill to the Senate soon.
In addition to facing a tough sell in the Senate, the bill, if passed, would likely be found unconstitutional by the current Supreme Court. In 2014, the court declined to review a lower court's decision to strike down a similar 20-week abortion ban in Arizona.
The bill and its predecessors have been based on claims frequently advanced by anti-abortion activists, namely that a significant number of late-term abortions take place (according to the CDC, 98.2 percent of abortions occur by the end of the 20th week) and that fetuses can begin to feel pain after 20 weeks of pregnancy (the American College of Obstetricians and Gynecologists has not endorsed any studies that support such a claim).
"The agenda behind this bill is clear: to shame women and to ban safe, legal abortion," said Dana Singiser, vice-president for government relations and public policy for Planned Parenthood.