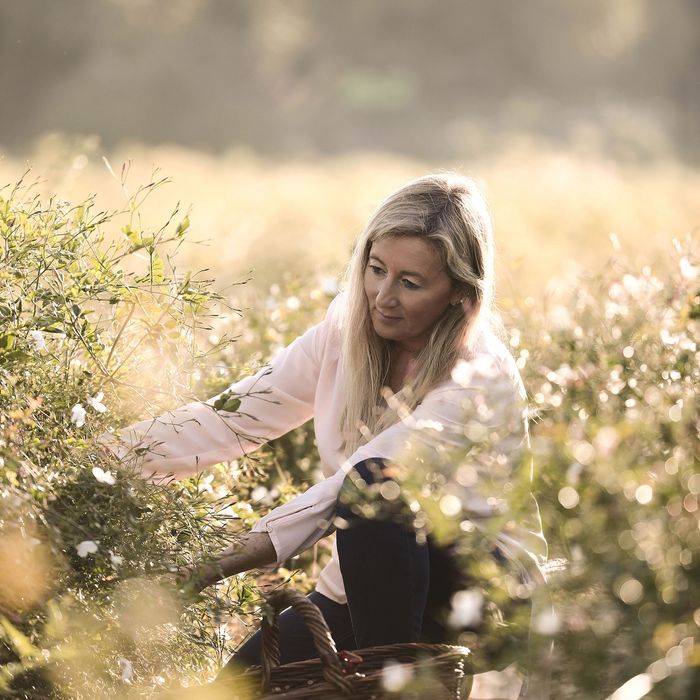 Carole Biancalana.
Photo: Bruno Chiappe for Parfums Christian Dior
People often dream of quitting their jobs for greener pastures, but Carole Biancalana actually did it. Almost 20 years ago, Biancalana left her banking job for the pastoral life. Now, she runs La Domaine de Manon, a 320,000-square-foot farm in Grasse, France that produces all of the May roses and jasmine grandiflora for Dior's scents, including J'Adore and the more concentrated J'Adore L'Or. Below, Biancalana talks about life among the flowers.
How did you start your career as a farmer?
When I was young, I studied economics and psychology. I went to work at a bank, but I left in 1999 because I needed a rest. I wanted to like my life; I wanted to live in an organic and natural way. So I said to my father, who was a farmer, "I'm coming back." He was so, so happy. I learned about farming from my grandmother and my parents. There's an expression in French called savoir faire — the knowledge of different work — and that's what my grandmother taught me. My farm, La Domaine de Manon, has been producing rose and jasmine for a century.
Eleven years ago, at the International Congress for Agriculture, I met [Dior perfumer] François Demachy. I gave a talk, and at the end, he said he was impressed by my presentation and he wanted to use exceptional raw materials. "I want to produce in Grasse and I want to start with you," he said. We signed a contract a year later, and now we've been working with them for nine years.
What is a typical day like for you?
I wake up very early. From April till October, I get up around 5 a.m. I check on the harvest, I do the pruning. I eat at noon, because food is very important for the French [laughs]. In the afternoon, I make jam using what we grow from the jasmine. Sometimes I receive press.
I think I spend one hour in front of the computer. I don't want to do more than that. I hate it. But we get a lot of emails. What we do is special, and so we often get messages from other young people who want to be creators of flowers and want advice. It's good to know that people want to be producers. I think they're drawn to it because they like the way of life. They sense that it's good to have your work be harmonious with nature. There's a balance between your work and your life.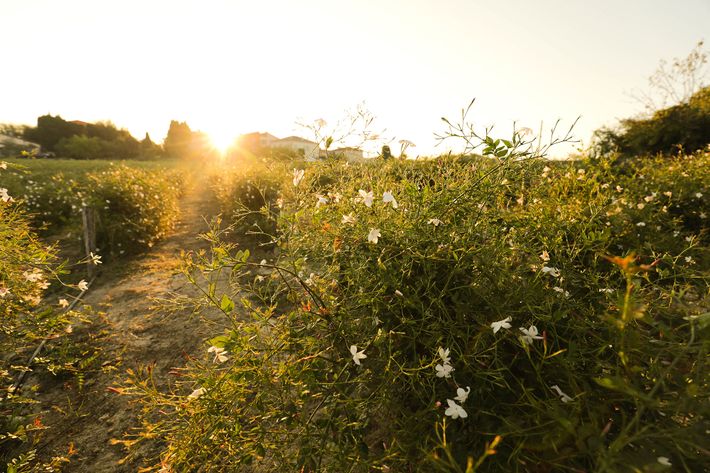 People often talk about farm life being dreamy. Is it really as idyllic as it seems?
I prefer the field to the bank. It's more natural. Of course, sometimes I am tired at the end of the day. But I sleep very, very well at night. I'm not stressed. At the bank, I was bad sleeper because of stress, but now I get home and I sleep like a baby.
I'm doing my passion. My life is flowers. It's difficult to find a job that's your passion. Yes, it always feels like work, but I can't imagine doing any other kind. I produce several tons of flowers just for Dior. When you produce flowers and don't know if the harvest will sell, it's complicated, but now, with the contract with Dior, I know it's sold. But there is also pressure to make sure I produce quality.
What do you find stressful about your job?
You can't control the seasons; you can't control others or the weather. It's snowed one time in ten years. My worst nightmare is hail. It breaks all the flowers. That is a stressful situation. You can't predict it. You can't protect the plants.
But when I decided to leave the bank, I decided to stop stressing. It was a decision. It's impossible to live without any stress, and a little stress is normal. You need a little to be efficient, but when you work with nature, you learn to be patient. I've learned to cope with anxiety. The older I am, the more I've learned to relax.
Farming is traditionally seen as a male-dominated profession. What was it like for you, breaking into it?
At first, we weren't seen as serious because we were ladies. But that's not true anymore. Little by little, the men began to perceive me as more serious. In fact, now I show all the other men that I come from a good field. I can make things at a serious capacity. Things are different, and it shows through my work.
In fact, many, many women want to be producers. Funnily enough, Demachy has farmer's agreements with five other female flower producers. He likes and supports women.
And yes, we are better than male farmers! [Laughs]. Think about it: When mothers produce something, it is organic. I think we're more respectful of the enterprise and of social responsibility. We want to make something without taking away from the earth.
This interview has been condensed and edited.