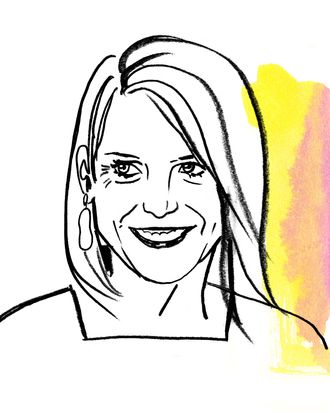 Katie Couric.
Illustration: Lauren Tamaki
Katie Couric may be the former longtime co-host of the Today show, but lately she's been working on some new projects. She cohosts the Katie Couric podcast with Brian Goldsmith (they interviewed Gretchen Carlson in the latest episode), is executive producing a Lifetime movie about the water crisis in Flint, Michigan, and she's working on a six-part National Geographic series. She lives in New York City with her husband, John Molner, and is the mother of daughters in their 20s. Here, she shares how she gets it all done.
On a typical morning: I get up around 6:30 a.m and I always go across the street to Butterfield to get some coffee. I like getting out rather than staying in, because it wakes me up. My phone is my life, but I still get the New York Times delivered every day. I'm also a newsletter junkie, so I read a lot in the morning: Politico Playbook, Axios, the Hive, the Times, theSkimm, MediaREDEF, Quartz Daily Brief, the Washington Post Morning Mix, the Washington Post Politics, and the Huffington Post.
On sleep: After I left the Today show, it took me about two days to get back on a normal sleep schedule. But I used to be a championship sleeper, and now I don't sleep as well as I used to. Maybe it's just that my mind is going a hundred miles an hour 100 percent of the time, or it's just that we're living in anxiety-ridden times. Between neo-Nazis and North Korea, I'm having trouble sleeping.
On breakfast: I don't really love to eat in the mornings, but generally I'll have a smoothie or I'll try to get some sort of protein. Sometimes I'll have a soft-boiled egg, although I hate when the white is runny, since it completely grosses me out. I'll also try to eat some sort of healthy, super-seedy toast. I've been eating a lot of sliced tomatoes lately because we're at the end of the good tomato season. I also really love fresh produce, which I like to bring back from farmstands in the Hamptons.
On exercising: I just started with a trainer because I'm not particularly disciplined. If someone shows up at my apartment, I don't really have a choice. So I'll go downstairs, run on the treadmill and exercise for an hour. I'm doing a lot of weight-bearing exercises, stretching, and trying to get in better shape overall. My trainer is named Larysa and she's great — she's so perky, she makes me look dead. I'm also trying to get my husband to work out with her one day a week.
On watching TV before bed: My husband and I are on season five of Friday Night Lights, and we usually start watching an episode at night when we're tired, around 11 p.m. We love the show; I don't know how we missed it the first time around. I worship Connie Britton and Kyle Chandler, but Landry is my favorite character. He's so sweet and he's also super smart, and he also always goes for the pretty girls even though he's not the Homecoming King. I love that. He's aspirational. Sometimes we try to stay up and watch Stephen Colbert but usually we watch him on tape delay, and we're also excited about the Ken Burns Vietnam War series.
On trying to be a more organized traveler: I travel a fair amount. Sometimes I just take day trips to Washington, but I'm traveling a lot for my upcoming series for National Geographic. I'm trying to really discipline myself not to put every outfit I own in a suitcase when I pack. Now I think carry-on is key, and whatever I wear on the plane getting there, I'll wear on the plane coming back. But I'm kind of a hot mess in every aspect of my life, so I'm lucky I have an assistant who appreciates how disorganized I am. She always makes sure I have my license and my passport with me.
On juggling multiple projects: I'm getting into some scripted content through my production company, and the Lifetime movie about Flint is one of my first forays into that genre. I have an upcoming National Geographic six-hour series on big important social issues. I'm also doing the podcast with Brian Goldsmith. We went to Ina Garten's house in the spring, and she cooked us breakfast, so we got to eat during the podcast interview, which was really fun. I really enjoyed talking to Sheryl Sandberg about her book Option B, because we have a lot in common in terms of having lost my husband as well. I loved Ava DuVernay because she's extraordinarily talented. And I liked Dan Savage because he made me blush.
On being a working mom: When you have young children, it can be super challenging. I've always worked and there have been times when I've missed things with my daughters, but my daughters are thriving. I think having a working mom taught them to be independent and strong. I was very lucky because I had a fantastic person who lived with us and was like a second parent to my daughters. But you have to constantly evaluate how you're spending your time and calibrate it accordingly. If you're lucky enough to be in a position to continually make adjustments, then that's a good thing.
On stress: People have different thresholds, but I've always thrived under pressure and stress. I'm a procrastinator and if I'm not in a hurry, I always somehow undermine myself so I will be in a hurry. I'm an adrenaline junkie — but I think exercise has helped. I've also tried meditation, and I do deep breathing if I'm feeling particularly stressed out.
On giving back: Lately I've been trying to focus on all the good I have in my life. I want to continue to focus on how I can help people and try to do good things for other people. I want to give back, not only in terms of charities and organizations, or my work with Stand Up to Cancer and the Jay Monahan Center, but how I can help people and mentor those who are coming up in the world.
On podcast life: Well, you don't have to wear makeup or wash your hair — that's always a plus in my book. People are usually quite self-conscious when they're on television. When they're not being videotaped or filmed, they let their guard down, which makes for a more natural conversation. I think that's something Howard Stern discovered many years ago, and why his interviews are always so refreshingly honest. I love doing the podcast because it's unfiltered; it's not a sound bite. That's a real treat in this day and age, especially when our attention spans have become so truncated. Being able to have an extended conversation like that is very hard to do on television.