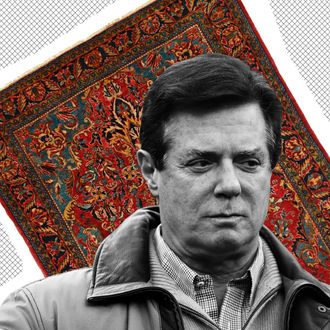 Paul Manafort and a rug.
Photo: Getty Images
If you (allegedly) laundered $18 million while (allegedly) committing some light treason, how would you spend your illegal fortune? Well if you're former Trump campaign manager Paul Manafort, you apparently spend a sizable chunk of it on antiques.
In a 31-page federal indictment, Manafort and his deputy Rick Gates were charged with "conspiracy against the United States, conspiracy to launder money, unregistered agent of a foreign principal," and many other things (it's a long list, we assure you).
But the indictment also claims Manafort allegedly laundered $18 million for himself, which he used on "goods, properties and services." But how exactly did he allegedly blow all that sweet, sweet laundered cash? Here's a small sample from the indictment:
- $934,350 at an antique rug store in Alexandria, Virginia
- $623,910 at an antique dealer in New York
- $849,215 at a men's clothing store in New York
- $520,440 at a clothing store in Beverly Hills, California
- $163,705 on three Range Rovers
- $62,705 on a Mercedes Benz
- $31,900 at an art gallery in Florida
We guess no one told him you can get affordable rugs at Target.