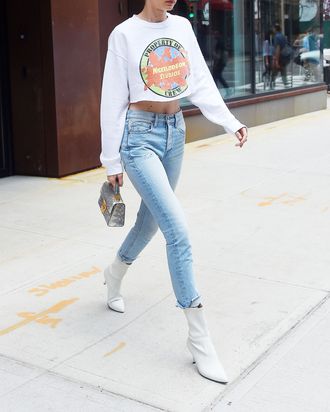 Photo: Josiah Kamau/BuzzFoto via Getty Images
Once in a while, a trend appears on the runway, trickles down to your local mall, and then lodges itself firmly inside your brain. Now Trending is our weekly roundup of where to buy that look that's been haunting you.
When you think of white boots, the Dallas Cowboys cheerleaders might be the first thing that comes to mind. But as Fendi, Off-White, and Tibi have all proven on the runway — and Gigi Hadid in her Stuart Weitzman's has demonstrated on the street — a white fall boot can be surprisingly chic.
To pull off white boots, use them as a contrasting color against jeans, a printed dress, or a monochromatic look. They obviously draw attention to your feet, so keep everything else simple in color or muted in print. Trust us: They'll make any outfit look 100 times cooler. Scroll ahead to see our top seven options under $300.
At four inches, the heel is a bit high, but they're straightforward and cost less than $50.
The Pair You've Seen All Over Instagram
Photo: afront
"Influencers" love these, and the chunky heel makes them more walkable than others.
Photo: afront
Pair with all of your LBDs.
If You're Not Ready for All White
The sliver of black makes them feel more down-to-earth.
The only thing more eye-grabbing than a pair of white boots is a pair of patent-leather white boots.
Reminiscent of the popular Saint Laurent boots but under $200.
Photo: 17-09-21 Accessories AM1 B7 corypeterson W
The subtle rubber cap, pointed toe, and mid-calf height give these Western vibe, and you know what? We don't mind it.
If you buy something through our links, New York may earn an affiliate commission.