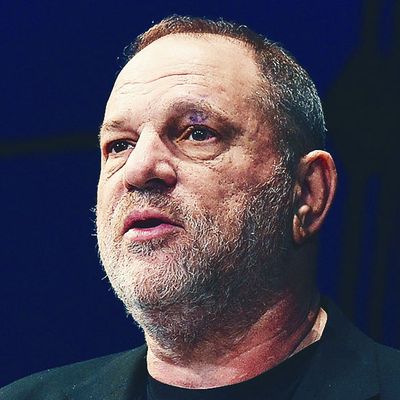 Harvey Weinstein.
Photo: Bryan Bedder/Getty Images for National Geogra
Earlier this month, both the New York Times and The New Yorker published reports on decades of sexual harassment and assault allegations against Hollywood producer Harvey Weinstein. And now, the The New Yorker offers an inside look into what it was like at the Weinstein Company on the days both exposés were released.
The day the Times story was published — October 5 — Weinstein allegedly showed up at his 375 Greenwich Street office "express[ing] satisfaction that the piece had come out on a Thursday rather than a Sunday, when, by his reckoning, more people would have seen it." An assistant at the Weinstein Company told the producer he was resigning that day, and Weinstein offered to give him a reference. Per the The New Yorker:
Later, as the assistant was leaving to spend the afternoon drinking and strategizing with his colleagues at a nearby pub, he says that Harvey reached for his arm. Sobbing, Harvey said, "I'm not that guy. I'm not that guy."
The next Tuesday, as Ronan Farrow's The New Yorker story on Weinstein was published, the remaining Weinstein Company staff gathered in a conference room with soul-food takeout from Bubby's. The employees read the story in silence, and then listened to the NYPD tape of Weinstein confessing to groping a woman.
They knew that voice too well. Some began to shake, and many of them wept as they contemplated the roles they might have played as accomplices, unwitting or not.
A longtime employee then offered to answer any questions the staff may have about the producer's behavior. A creative executive told The New Yorker, "One of the female assistants was, like, 'Tell us everything.'"
The full story, which details employees' reactions to the Weinstein allegations and what they knew, can be read here.