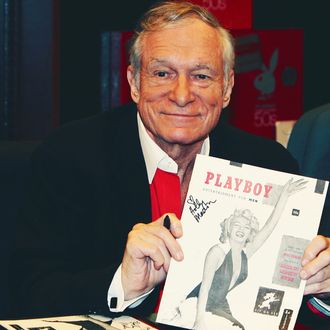 Hugh Hefner with
Playboy
's inaugural issue featuring Marilyn Monroe.
Photo: Ian West - PA Images/PA Images via Getty Images
Playboy founder Hugh Hefner, who died on Wednesday at the age of 91, will spend the rest of his life-after-death lying next to the first woman he really wanted to see naked in his magazine — Marilyn Monroe.
The mogul was buried in a private ceremony on Saturday afternoon in L.A.'s Westwood Memorial Park surrounded by his four children; third wife, Crystal Harris; and Playboy staffers, TMZ reports.
Monroe was Heffner's first cover girl and centerfold in 1953, and her photographs made Playboy magazine an almost instant success. Hefner bought the plot next to Monroe for $75k in 1992, according to the Los Angeles Times.
"I'm a believer in things symbolic," he told the paper in 2009. "Spending eternity next to Marilyn is too sweet to pass up."