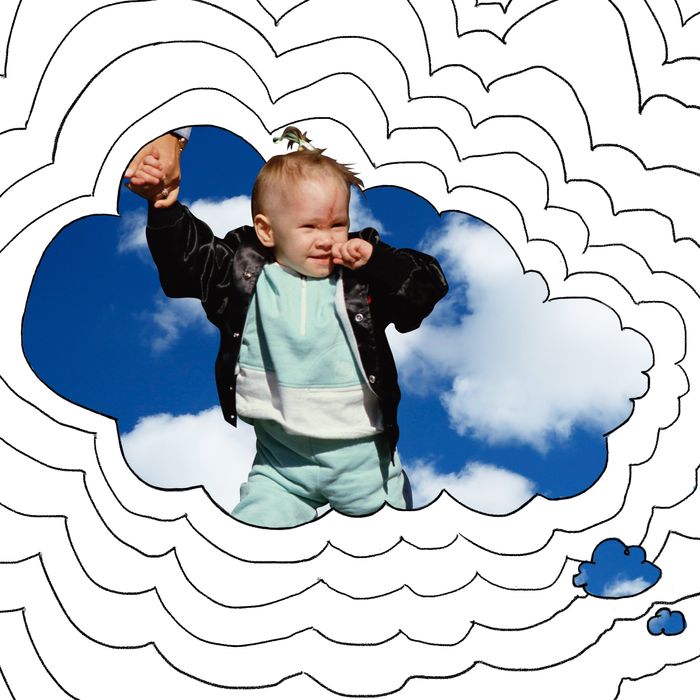 I Think About This a Lot is a series dedicated to private memes: images, videos, and other random trivia we are doomed to play forever on loop in our minds.
I became obsessed with babies as soon as I no longer was one myself. As a four-year-old, I worshipped the ultimate baby — Baby Jesus — much to the concern of my non-religious parents. I renamed all my baby dolls Jesus and insisted on off-season and nightly readings of some random Christmas book in which he featured heavily. By third grade, my favorite artists were Anne Geddes and Keith Haring because both dealt with the infant form; I even made my mom buy me framed prints by each artist at Bed Bath & Beyond. But let's go back a bit to second grade, where I came across a learn-to-read book about Baby Jessica. It was, as I recall, next to a fantastic tome about a seeing-eye dog named Buddy who got to eat a stick of butter for his birthday. (In addition to small humans, I also loved dogs and butter.) I checked both books out, and spent weeks reading and re-reading them.
When I sat down to write this, I questioned my own memory. Why would anyone write a children's book about an 18-month-old who falls into an eight-inch-wide abandoned water well and stays trapped 22 feet underground for 58 hours?! (On the other hand, "well" does rhyme with "fell.") Initial Google searches proved unsuccessful, but then I found a little something published by Wright Literacy in their Early Fluency series called The Rescue of Baby Jessica. The only problem is that this particular book didn't come out until I was eleven, and by then I was definitely not reading baby books because I'd moved onto pilfering my mom's chick-lit supply and worrying about finding Mr. Right. I don't know for sure, but I'm convinced there must've been another Baby Jessica book and anyone with proof should email me directly.
I'm far from the only person fixated on Baby Jessica. She was, after all, an international sensation in 1987 and for years afterwards. CNN, the country's first round-the-clock news network, broadcast Baby Jessica's rescue constantly; over three million households were watching the channel as she was pulled up. Afterwards, there was a parade, a visit to Live With Regis and Kelly, plus 15 surgeries. Strangers sent cards and gifts, including a puppy, a custom waterbed, and a five-foot-tall Winnie the Pooh. Then-President Reagan said, "everybody in America became godmothers and godfathers of Jessica." So she has a lot of fans, but I maintain that I'm the only person this obsessed who was negative-3-years-old when Jessica fell into the well.
As the public's attention inevitably shifted elsewhere, Baby Jessica's parents tried to protect her from what happened. She only learned she'd been the little girl in the well when she watched an episode of Rescue 911 at age five and grew so concerned over the fate of the toddler that she asked her stepmom what the girl's name was. Her parents then explained that, well, she was the toddler.
Unlike many fans, I didn't watch Jessica's rescue in real time, wondering if she would live or die, feeling somehow present in that small Texas town. So why did her story stand out to seven-year-old me, and why does my heart stop whenever I see her name in the occasional People spread? Heidi Julavits has an annoying habit of explaining things better than I can, and of her own childhood interest in horrible occurrences, she recently wrote, "Because my home life was stable, I had the luxury of dreaming up very bad situations and strategizing how to survive them." Add to that my love of babies plus an unfounded certainty that I deserved to be famous, and the Baby Jessica story felt made for me.
Sometimes I imagined I was Baby Jessica, but mostly I pictured myself as the rescuer. At seven, I'd probably have had an easier time wriggling through the parallel shaft a construction crew hastily dug and shimmying through a cross-tunnel to pull out the very sad, very scared baby. Yeah, I'd probably need some help, but if they gave me a flashlight I figured I'd be okay in the dark. I was also fine with being a quieter hero, like one of the first rescuers on the scene, who spent three days lying on his stomach listening for Baby Jessica and any noises proving that she was still alive. To keep her entertained, he'd ask her what sounds different animals make. "How does a kitten go?" he'd shout down. Then he'd wait until a tiny voice answered, "Meow."
I'm no longer as obsessed with babies, but I still think about Jessica more than one would expect. I'm less fascinated by my own (non-existent) role in her story than by her resilience. Jessica seems completely well-adjusted and maybe even a bit boring, if you're allowed to say that about someone who's been through something so utterly terrifying. She's not a fame monster and she's not freakish about safety. No-Longer-a-Baby Jessica lives less than two miles from the site of her fall; she's married and raising kids of her own. She doesn't remember a thing about her time in the well, but I'm curious if those memories are still somewhere deep in her brain and whether they'll ever come to the surface.
To this day, people still recognize her by the scar across her forehead and call the now 31-year-old "Baby Jessica." By all accounts, she's pretty unfazed. "Like they told Lil' Bow Wow, you'll never get rid of the 'little' part," she said ten years ago. "Cause you'll always be what you are remembered as." Since then, he's transitioned to Bow Wow, but she'll always be my baby.