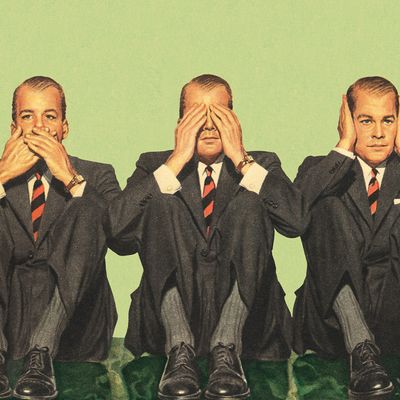 Photo: CSA Images/Getty Images/Vetta
The man's excuse is always the same: He thought he was flirting, he considered it consensual, he's just a horny guy who makes lewd jokes. The excuse from those who witnessed his abuses — including the support staff whose jobs, in Weinstein's case, included logistics around the procurement of victims — also follows a script: They knew something sleazy was going on, but they didn't know it was that. They thought the relationships were consensual. They figured it wasn't their business.
"This type of predation happens behind closed doors and out of public view," said the actor Matt Damon. If he'd seen sexual coercion with his own eyes, he says, "I would have stopped it." When he found out about Weinstein's abuse of Gwyneth Paltrow, he considered it a private matter: "I knew that they had come to whatever agreement or understanding they had come to. She had handled it." To be polite, he accepted the mass delusion that the beautiful women parading through the growling bully's hotel room went there consensually. Whatever happened once the hotel room's door closed, well, that was private. Because sex isn't just how men abuse women— it's how they cover it up. The transgression of boundaries is both the crime and the excuse: We are all trained to look away when sexual things happen, particularly in the workplace. And the people who perpetuate abuse know this.
The imperative to avoid sexual discourse in the workplace exists for good reason. Your co-worker's love life is not yours to scrutinize. But this also means that, when people violate those norms, they can take advantage of that well-intentioned squeamishness with ludicrous impunity. When you accidentally discover something about an acquaintance's sex life, the standard routine is feigned ignorance: Avert your eyes from the hickey; cough to announce your presence so the PDA stops; pretend you didn't hear your neighbor having sex. In so many of the garish stories of workplace abuse, perpetrators are abusing those boundaries, too: "Last week, I put 'Leon kissed me' into the search bar of my email, and to my surprise, four incidents popped up," the journalist Marin Cogan said of New Republic editor Leon Wieseltier after his systematic sexual harassment was made public. "I told co-workers, and we all treated it as an awkward but not uncommon fact." The magazine's one-time executive editor Rachel Morris analyzed: "He was good at figuring out which things he could say to which people — knowing where you could push somebody's limits." That is: as far as he could push without breaking the social imperative to avoid overt recognition of an acquaintance's sexual appetite. Nobody wants to think about Bill O'Reilly's libido, so they accept privacy as an excuse to ignore it. And that natural aversion fuels the cycle of discomfort and disgust that silences victims. "It's twisted," the actress Asia Argento said of her rape by Harvey Weinstein. "A big fat man wanting to eat you. It's a scary fairy tale."
To end the scary fairy tale — to take action — is to confront an extremely awkward catch-22: To stop sexual abuse, we need to be comfortable talking about sex.
It's awkward because, well, talking about sex is awkward. But also because, as a cavalcade of #MeToo narratives have demonstrated, abusers regularly manipulate their victims by twisting the logic of sexual liberation. To prove you're comfortable with your body and sexually free, these men claim, you should use your body in a way that, conveniently, suits their sexual desires but not yours. "I need to see how your body moves, how comfortable you are with your body," the director James Toback told Selma Blair. "She needed to display the sexual confidence the role required," Toback told another actress. "If she couldn't reveal herself to him in the hotel room, how would she be able to act in a provocative sex scene?" Toback asked actress Sari Kamin. (Since the Los Angeles Times first published the Toback stories, more than 300 accusers have come forward. The man spent so much time stalking and victimizing women, I'm baffled that he even had time to make movies.)
Hugh Hefner — a man of enormous achievement and a fatally flawed legacy — died one week before stories in the New York Times and The New Yorker broke open the Harvey Weinstein scandal, triggering this mass public reckoning with abuses of the male libido. By building an empire on the male sexual desire, the Playboy publisher had established an erotic template that looms large, to this day, over heterosexual America. It's often said that sex crimes are as much about power as they are about desire. But whether these acts are driven by sex, or merely disguised as sex, they're still playing out on the stage of America's sexual culture — a stage that Playboy simultaneously reflected and helped to set.
In Playboy's world, the sexual appetite was never off limits. "DO IT NOW!" exclaims a feature from 1974, beside photos of (mostly nude) women and (mostly clothed) men having sex on the floor of a library, in the seats of an airplane, at the top of a ferris wheel, underwater at a public pool, and on the Brooklyn Bridge. "Perhaps the world is ready to forswear sexual hypocrisy in public places," the text reads. "Why should you suffer in painful silence when you're suddenly overcome by a fit of passion, just because you happen to be riding the subway or taking in the last half of a Shea Stadium double-header at the time the spirit moves you?" (I know this because I collect old Playboys. Like I said, flawed and great.) To thwart sexual desire is to "suffer in pain." To indulge is to live as our spirits intend. A successful sex life is one of satiation. The Playboy man is swagger, bravado, satisfaction. The Playboy woman? A bunny: charming but docile, pretty but mute. She is cherished, but she is also prey. Sex is all about appetite, and rarely about control — questions of power go unacknowledged.
This view of sex is, in some ways, tragic. Sexual liberation isn't just the freedom to fuck; it's also the freedom to choose whom you fuck, and when, and where, and how. It's being able to reject anyone, for any reason, whenever you want — and being able to withstand rejection. A successful sex life can't be quantified with notches on a bedpost, or how long you last, or how many orgasms you induce. A successful sex life is one that is open to choice and alert to possibilities. The most sexually successful straight men I know don't see women as prey — they see them as people with desires and disinterests as valid as their own. To bully women until they relent to your advances is to miss out on one of the most thrilling erotic experiences available to mankind — seduction. Because the precursor to sex is not a chase, but a tango. It's looking for the signals of desire, then responding with your own. It's signaling your desire, then being rejected and feeling awful — and then dusting yourself off and setting out looking, once again. It's being able to sense other people's desires — whether they are directed at yourself or someone else — and being confident enough to say, "Thanks, but no," or, "This isn't the right venue for that," or "You need to leave that actress alone." "Are you hiring her or hitting on her?" is a reasonable question to ask James Toback. "Kissing female employees is creepy" is a reasonable observation for Leon Wieseltier. Consent and rejection are meaningless without a shared vocabulary. A successful sex life recognizes that everyone is entitled to the strange, wonderful experience of being both human and animal, a discerning and free individual who possesses a body that generates desire.
Does Harvey Weinstein know that? Does James Toback? Roman Polanski? Terry Richardson? Robert Scoble? I used to think the full range of sexual experience was available to everyone. But the more stories of ham-fisted harassers that I read in newspapers, see on Facebook (#MeToo has reached half of all American Facebook pages), and hear in whispered tones at parties, the more I'm just not sure. Take, for instance, Mark Halperin, a political journalist accused of pressing his erect penis against the bodies of unsuspecting women. After five women came forward accusing him of sexual harassment, he issued an apology:
During this period, I did pursue relationships with women that I worked with, including some junior to me. I now understand from these accounts that my behavior was inappropriate and caused others pain. For that, I am deeply sorry and I apologize. Under the circumstances, I'm going to take a step back from my day-to-day work while I properly deal with this situation.
The statement is as cowardly as it is asinine. (The way to "properly deal" with a man who forces his genitals on an unwilling woman is to acknowledge he has committed a crime and dispense punishment accordingly.) I have no sympathy for this kind of man. I forgive him of nothing. I do, however, pity him. The way he expresses — and perhaps fulfills — his sexual appetite is perverse and stunted. The way he "pursue[s] relationships" is not seduction. Has he ever successfully experienced that? His sexual universe is stunted. In an ideal world, he would not burden others with his warped behavior. His victims would not have to correct him; his peers would not have to intervene. But that reticence is also what enables men like Mark Halperin. If we are not fluent in naming their crimes— and discussing the boundaries between reasonable sexual expression, inappropriate innuendo, and outright aggression — then we cannot end them.