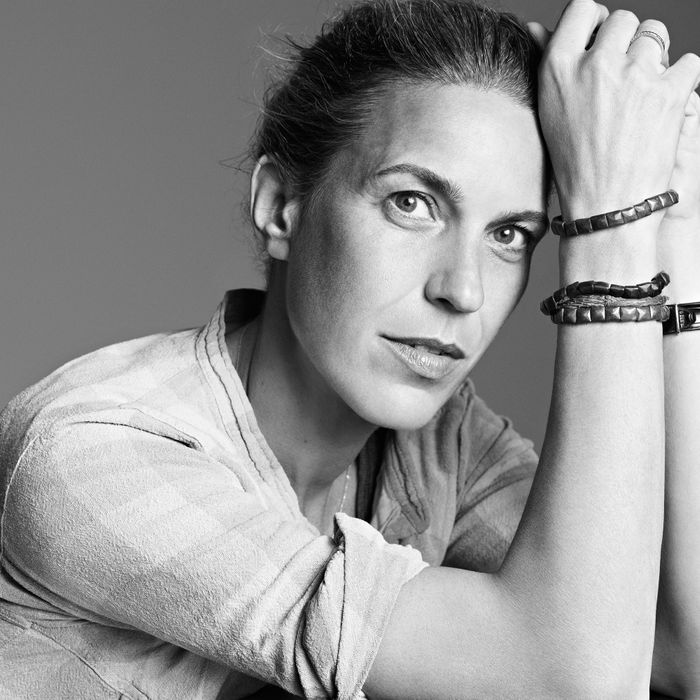 Isabel Marant, patron saint of French-girl fashion, came into design rather by accident. "I always had a very precise idea of the clothes I wanted to wear. I started to do my own garments and people started asking where they were coming from," Marant recalls. "Step by step, I discovered the fashion world."
For Frenchwomen and Francophiles alike, it was a fortuitous discovery. Since 1994, devotees have prized Marant's clothes for their luxe fabrications and easy sophistication. In the designer's own words, "I try to give my collection a lot of attitude as well as comfort and confidence." That means chic basics (Marant herself prefers jeans and T-shirts of her own making, largely in gray) alongside items like the mutton-sleeved blouses and high-waisted red lamé pants she showed in Paris last Friday.
This season, Marant also debuted menswear, inspired in part by the fact that her husband, accessories designer Jerôme Dreyfuss, has a tendency to borrow her clothes. The offerings skewed sportif, including windbreaker track pants, low-cut tanks, and flip-flops, as well as unisex-looking nubby knits.
Get to know Marant, and you'll learn that she's full of surprises. The designer drives a scooter, loves swimming, and prefers to spend weekends with her son and husband at her cabin in the woods, which has no electricity or running water. Below, Marant spoke to the Cut about her quintessentially French tastes, her aversion to stilettos, and why she'd like to be a 1960s all-terrain vehicle. Read on for the full Q&A.
How do you thank people for a gift?
I send some flowers — very nice ones.
Mood lighting or natural light?
I love both! During the day, I like natural lighting — when I work, I need to see things how they are. But for the evening, I love when there's not too much light and when the light is very yellowish, very warm.
What are some coffee-table books you'd be proud to display?
This is very French, but a book from Charlotte Perriand, the designer, and Georges Jouve, a ceramics designer from the '50s. And I always have a Richard Avedon book called Evidence and Observations.
What would you never wear?
Very pointy stilettos. I'm very touchy on the pointy shoes. It has to be a certain kind of point.
What's a trend that you like right now?
A growing concern for ecology and nature. In fashion, I like also the more sporty attitude of brands like Off-White or Vetements. It's sophisticated, but at the same time it's very easy, and it speaks to the reality of the world we are living in.
What's your favorite song on your playlist right now?
There's a song I really love from Mura Masa called "Nuggets."
If you were a car, what kind of car would you be?
I love this question! A Méhari. It's a kind of desert car that goes everywhere. It's very little, from the '60s I think, and it has a plastic roof and it's all open. It's really just a plastic bucket. It's a summer car, but I could live in it year round.
What is your dream vacation?
I would love to go to the Amangiri outside in the desert of Utah. And the Donald Judd house, also in the desert.
If you could live in any other decade, which one would you live in and why?
In the '20s, because people were very liberated and happy. Life looked easy and there were a lot of super interesting artists.
What's the secret to throwing a good party?
Good friends and different kinds of people, good music, good lighting, and a good cocktail.
What's one way that your style or taste has changed since you were a teenager and one way that it's stayed the same?
My taste never changed. What I used to like when I was young, I still love. As I got older, I became more aware of culture and inspiration; you can see that in my collection. I think I have more knowledge and am a bit less naïve than when I was younger, but in terms of taste, I cannot say that I have changed.
What's your guilty pleasure?
Reading a book all day without paying attention to my husband or my son. I read a lot of books and during the holidays; I just read Underground by Haruki Murakami.
What's your favorite pair of jeans?
There are two ways I love jeans: slim, a bit shorter and in the kind of gray that I wear almost all the time in my uniform for work, which are called the Paro. Otherwise, I love jeans that are super baggy, really oversize in a very bleached blue, almost white, like my Corby style.
T-shirt?
My very light gray Ricky T-shirt from my Étoile collection.
Pajamas?
I never wear pajamas. I'm always sleeping in a slip and maybe a tank top.
Flower?
Poppies. I like all the families of poppies, and I also love the garlic flower.
Chocolate?
This is very French — there's no translation for it — but I'm dying for orange peels with black chocolate around them, called orangettes. The best are from a patisserie, Henriet, in Biarritz in the South of France.
Fragrance?
I always wear Chanel No. 19 because it's all my mother and my grandmother wore, and it fits me very well.
Linens?
I love linen bedding, actually, when the sheets are in linen and in colors. I'm not very fond of white bed sheets. I prefer colored linen from Merci in Paris — they do very nice ones.
Pen for sketching?
A Criterion. It's super French also — the one in metal that architects use very often. It's very professional for designing.
If you buy something through our links, New York may earn an affiliate commission.