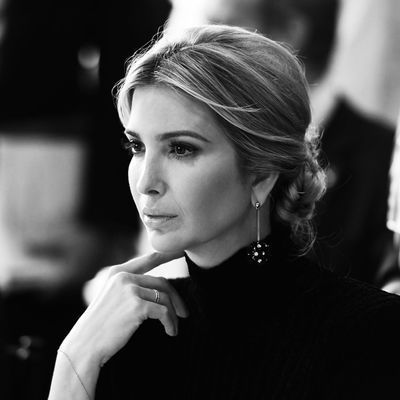 Ivanka Trump.
Photo: DON EMMERT/AFP/Getty Images
Ivanka Trump claims to be a champion for women and families, but a new analysis from the Center for American Progress found that her lack of a "real-world understanding" of everyday lives and support of rolling back equal pay has resulted in little-to-no progress in the White House. In fact, CAP gave her an F grade for her work on women's and families' issues.
As CAP notes in its analysis, Trump has branded herself as someone who wants to empower women through her work — while simultaneously ignoring the "breadth" of the challenges and issues actually affecting them. Instead, she appears to only want to be judged on the basis of her work in single issues, such as women in STEM. Per CAP:
But she cannot have it both ways. Women do not lead single-issue lives and a women's empowerment agenda driven by the White House cannot continue to ignore the diverse realities that all women bring to the table — from women of color, to LGBTQ women, women with disabilities, immigrant women, and women of different religious, educational, and socio-economic backgrounds.
The organization gave Trump an overall F grade, but also went through her work on individual issues and graded them respectively. For paid family and medical leave, Trump was given a D- for effort but an F for execution. Trump was also given an F for her work on child care, equal pay, global women's health, the Affordable Care Act, LGBT equality, education, and more. But she was given an incomplete in certain other areas — such as earned sick and safe days, which she's "largely ignored" — and another D- for entrepreneurship.
CAP concludes that, although Trump wants us all to lower our expectations for her, there's still so much work the First Daughter can do, as she has the opportunity to force policies that actually help women and families. "It is time for her to create comprehensive solutions to address the diverse needs of all women, and push back on the Trump administration's misogynist agenda," the analysis ends.