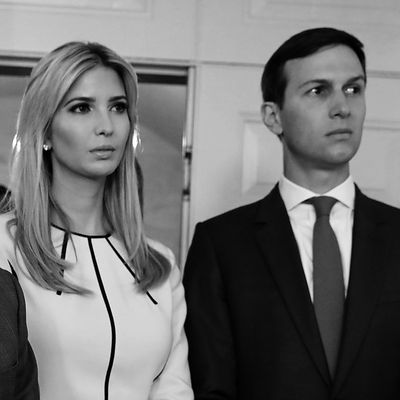 Ivanka Trump, Jared Kushner.
Photo: Chip Somodevilla/Getty Images
As their roles in the White House continue to attract scrutiny, Ivanka Trump and Jared Kushner are reportedly reducing their responsibilities and trying to "stay in their lane" in an attempt to remain viable in the Trump administration, Axios reports.
In the early days of the current administration, Trump and Kushner were reportedly involved in everything from personnel to presidential statements. But in an attempt to stay relevant in their roles as White House officials, the pair is now trying to stick with their chief portfolios. Ivanka is reportedly now focusing on job creation, working families, paid family leave, STEM education, and more, while Jared is focusing on the Middle East peace process, NAFTA, federal prison job training, and the Office of American Innovation.
The pair's presence in the West Wing has reportedly created confusion and resentment among staff, and legal questions have been raised about their roles — particularly given Kushner's support of the firing of FBI director James Comey and his involvement in Russian matters being probed by special counsel Bob Mueller, Axios notes. But the couple reportedly decided to shrink their roles after General John Kelly took over as chief of staff and began implementing stricter processes.
"They understand now that they don't have to take on those responsibilities. Now there are proper channels, and they're just doing what they're supposed to be doing," a colleague told Axios.
Axios also reports that the couple never expected to stay in the White House all four years, and that they see themselves as under constant attack by people hoping to get to the president.